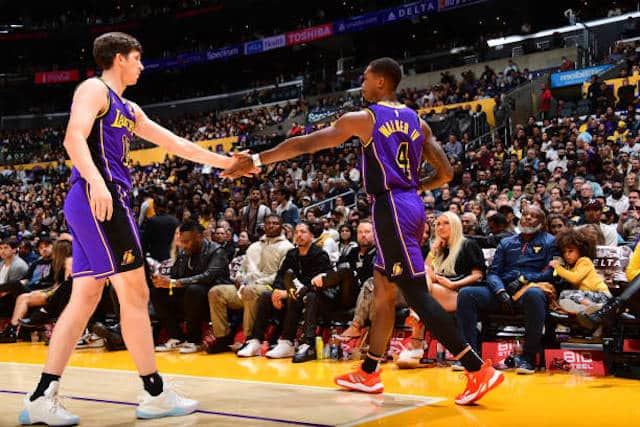 Depth isn't sexy. When a fan brags about their team they rarely talk about being able to comfortably go 12 deep into their rotation. In fact it's one of the most overlooked components of any team that wins consistently.
The focus is always on the stars. However, those stars usually don't ever reach the promised land without good help from their role players. This has been painfully obvious to any Lakers fans the past two seasons. The roster construction, because of the three star model, has had terrible depth.
Lebron James and Anthony Davis are the keys to this roster. When they go down there is going to be a drop-off to how well this team plays. The key is to make sure that drop-off isn't too steep. You do that by surrounding them with proven rotational players, rather than a bunch of minimum salaried players.
The reason for this is simple. For those players that make the minimum, usually there is a good reason why. They are either young players still trying to prove themselves, veterans who aren't what they used to be, or just generally borderline players trying to hang on. Surrounding your stars with players like this makes for a steep drop-off, whenever they get hurt.
On the other hand, if you surround them with proven role players that slope becomes much more gradual. There will still be a slight drop-off, but it will be much easier to deal with. It seems the Lakers learned this lesson the hard way, and have made a very good course correction. Depth is the future of this team build.
New Found Depth Has Cost Some Players Minutes
There used to be a very good argument for starting Austin Reaves, with this old roster. That has changed though with the addition of Malik Beasley. Malik is simply a better and more experienced player. In addition, having a volume shooter like him dramatically raises the floor of this team. Austin is still a very good player, but he just doesn't shoot at the same volume. Therefore, he doesn't create the same gravity on the floor that Malik does. If a shooter doesn't shoot at a high enough volume to be a threat, with your starters, he's better off coming off the bench. That's just a fact in today's game.
Bringing Austin off the bench just makes more sense, with this new roster. He brings much needed energy from the bench, not to mention a high basketball IQ. As a huge fan of Austin's and advocate for him to start that pains me to say, but it's the truth.
Two other fan-favorite players have seen their minutes almost disappear completely. Lonnie Walker and Wenyen Gabriel are relegated to garbage time now. They're both still very good players, but with this new roster there just isn't as much need for either of them. It's a luxury to have players this good, this deep on the bench. They are basically "break glass if needed" now.
Rui Hachimura Was An Upgrade, Now He's A Bench Player Too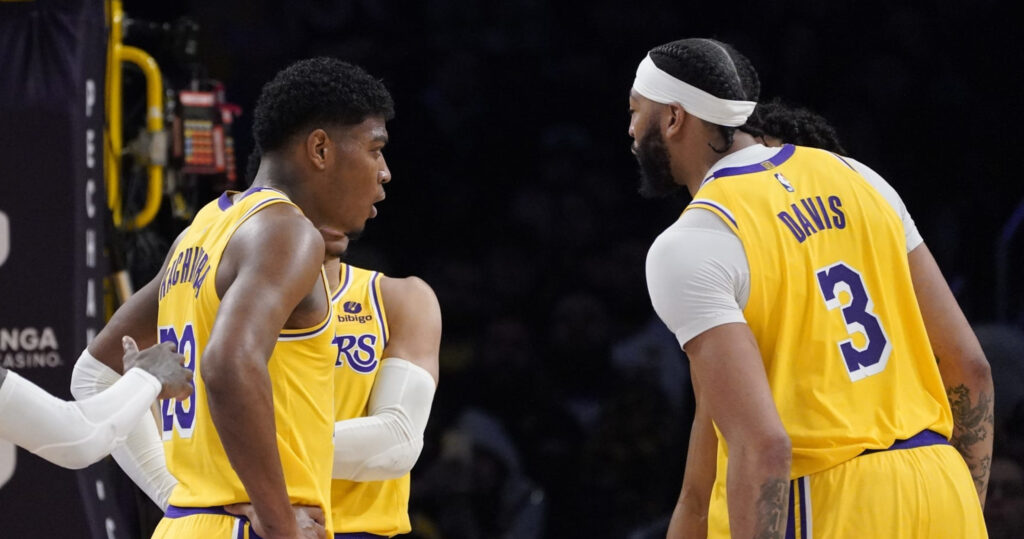 When the Lakers traded for Rui Hachimura it was a big upgrade. He broke in to the starting lineup pretty quickly. Then the Lakers acquired Jarred Vanderbilt, in the deal that also brought in D'Angelo Russel and Malik Beasley. Jarred took over as the starter just as quickly, because he provides much needed wing defense.
Rui is a better offensive player, but he is not as good as a defender as Jarred is. He now gives the Lakers someone to matchup with players like Kevin Durant, for example, and it's makes perfect sense why he should be the starter now.
The Lakers are really looking at an embarrassment of riches, in regards to their depth right now. Their margin for error has now increased exponentially because of it.
It was very evident how much when they played the Warriors, this past Thursday. Lebron and AD both had subpar games, and the Lakers still won in dominating fashion. Then on Sunday they overcame one of the historically worst shooting games, from the perimeter, to overcome a 27 point deficit and beat Dallas on their own court. This team's depth is legit.
Now, whether or not this team is ready to compete for a championship is still debatable, but they have all the right pieces on paper currently. This bigger margin for error should help propel them to the playoffs. The only question will be if their chemistry and continuity are going to get strong enough, with only 21 games left, to help them make a deep run. We'll find out the answer to that question soon though.