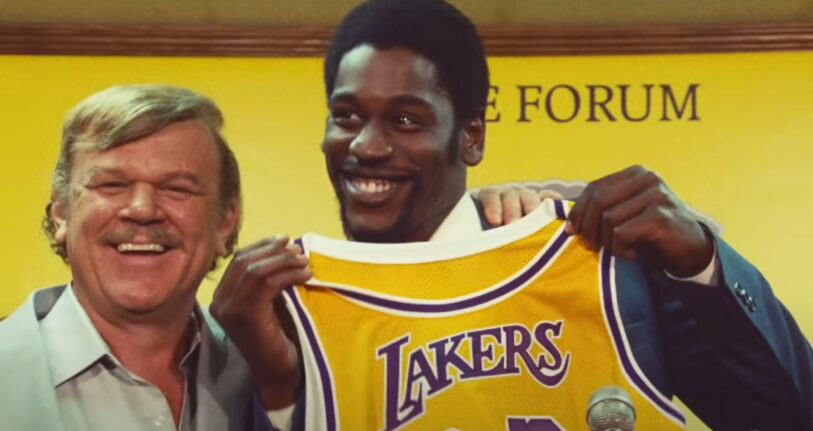 Episode 1 of HBO's New Lakers Series Does Not Disappoint.
Near the end of the first episode of Winning Time, Dr. Jerry Buss, played immaculately by John C. Reilly, pauses to admire the swans gliding across the surface of a pond at the lavish mansion owned by Jack Kent Cooke. He is there to finalize an agreement to buy the NHL's Los Angeles Kings, the Fabulous Forum, and the greatest runner-up team in American professional sports – the Lakers.
Buss has learned that Cooke (whose tirades against subordinates earned him a reputation as "Jack Kent Kook" and "the number one asshole who ever lived") is having second thoughts about selling. His task is to close the deal as quickly and smoothly as possible. Before going into his meeting, Buss comments that the apparent grace of the swan is supported by an unseen fury of effort by the webbed feet below the surface, constantly churning to maintain the appearance of casual elegance. As the meeting begins, he smiles calmly at us through the camera and issues an invitation: "Watch me paddle, motherfuckers."
It is a moment that captures the ebullient charm, amused self-awareness, and borderline-irrational confidence that made Dr. Buss such a natural at running a sporting franchise. For Laker fans in the year 2022, it is a welcome reminder of a time before the Lakers became THE LAKERS, and before the dazzling run of success that affected the transformation seemed possible. A reminder that it was not inevitable, and that success never was the birthright of this team. It was won; painstakingly wrestled away from those who wanted it just as badly.
While Reilly stands out as Dr. Buss, his performance is only half of a duo that drives the episode from beginning to end. Quincy Isaiah has done the impossible in capturing Magic Johnson's endearing (and often frustrating) combination of earnestness and cunning. His easy-going manner and radiant smile seem to have been downloaded directly from the original. We see the bewilderment that this is his life now, combined with a sharp appetite for more.
While Cooke clearly represents the antagonist of this first episode, his character is mostly a vessel for the racial and class tensions that regularly mark relationships between (mostly black) players and (almost entirely white) team ownership, then and now. A scene depicting a conversation between Cooke, Buss, Magic, and his father is particularly effective in making that point. When Cooke hears that Earvin Johnson, Sr. works on an assembly line for Chrysler, he chuckles and notes as a joke that he is receiving the rights to the Chrysler building in New York as part of his deal with Buss. Yet the callous, unthinking way he flaunts his wealth is funny only to himself.
Cooke opens dinner with the observation that "one can judge a thoroughbred by its appetite," casually referring to Johnson as though he were a prize horse. Later on, Cooke's irritation with the younger Johnson's hard line in financial negotiations spills over, and he snaps "Listen here, boy." The following silence is deafening. Everyone knows what was said, and everyone knows what was meant. Buss' hasty, wildly transparent attempts to break the tension fall flat. "NBA owners," writes Jeff Pearlman in his excellent book, Showtime, from which this show is loosely adapted, "more than those of any other league viewed themselves as better than the players they employed."
The racial component of that self-image is obvious, both in Cooke's flagrant behavior and in Buss' uncomfortable attempts to dissociate himself from it without actually addressing it. It makes yet another appearance in the form of an important scene which takes place at a house party being thrown by then-not-yet-Clippers-owner Donald Sterling. When introduced to Johnson, Sterling immediately comments to Buss about Johnson's physical attributes, ignoring the young human being in front of him entirely.
The issues are engaged in an emotive and personally compelling way by the exceptional cast. Isaiah's chemistry with his on-screen family members, and especially with his father (played by Rob Morgan), is palpable. Gaby Hoffman is excellent as Claire Rothman, a smart, tough administrator for the Forum who has an air of being over her male bosses' bullshit that would not be out of place on Mad Men. Solomon Hughes hilariously introduces Kareem Abdul-Jabbar as an aloof, moody star impatient with the constant demands of those around him and beyond caring what the media says or thinks of him. DeVaughn Nixon brings charisma to what is undoubtedly a special role for him; playing his own father Norman.
It makes for a great start to a show that could not have come to Lakers fans at a better time. Just as The Last Dance descended like mana from heaven to soothe our covid-shutdown-induced boredom and anxiety, this show will make Laker fans forget that it has been two years (the horror!) since the Lakers hoisted the Larry O'Brien trophy. It helps us to look back at a time before every-year success was expected of the Lakers and to remind ourselves that even in the glory days progress is not quite linear. But most simply, and most importantly, episode one of Winning Time represents well-made television about characters we already care about a great deal. That is, so far, a winning formula.
For more premium Lakers content, subscribe to the Late Night Lake Show podcast on iTunes, Spotify, Spreaker or Google Podcasts. You can follow Phil on Twitter at @phsizemore.