Late Night Lake Show's own Ricky and Omar recently got a chance to catch up with official Lakers sideline and beat reporter, co-host of the Laker Film Room Podcast, and all-around pleasant individual Mike Trudell. Their frequently amusing hour long discussion touched on the Lakers' Summer League performance thus far, new head coach Darvin Ham, LeBron James' impending eligibility for a contract extension, and the Great Chicago Fire of 1871. Here are some of the highlights:
On Summer League and the Laker Youngsters:
Omar: I was ready to beat the drum on the Jay Huff Hype Train. He looked so dominant [in the California Classic tournament]… but he's out in health and safety protocols. Can you speak to his presence and if we expect to see him at all in Summer League?
Mike Trudell: So the way that health and safety protocols work is that you don't ever really know because they keep that information proprietary, which they should… but, Omar, your point that's key is he's made some real progress from last year… The idea of what he is in the current NBA, I like. He's kind of one of those bigs who knows how the modern big is being used. There's a place in the NBA for a guy like that. Has he impressed anybody, either internally or externally, enough to get more of a secure spot? That's still a question.
–
Ricky: What, from what you've heard, what did the Lakers really like when they saw the film on [Lakers 35th overall pick Max] Christie?
MT: The Lakers have been really successful in their scouting department for many years now and their Assistant GM/Director of Scouting Jesse Buss, I think, is the key there. Rob Pelinka, since he's come in, has worked with Jesse and the vibe there has been really good… The process by which they end up getting Christie is one I have learned to trust, and I think his play has backed that up in the fundamentals he showed, especially at the defensive end. Offense is still going to take some time to get to that NBA level, but he's got a lot of stuff already that I think is pretty enticing to see.
–
R: I honestly didn't have any expectations for Scotty Pippen, Jr. coming in. He has surprised me the most. What do you see when you see him take the court and play like he believes he's one of the best players out there?
MT: I'm intrigued by Scotty Pippen, Jr… I think there are some Tyus Jones vibes, in just this very brief time that I've watched him. Tyus was a little bit sharper in terms of Assist-to-Turnover [Ratio]… The question is kind of how long or how well can he hold up defensively at that size, and I think he's pretty tough defensively, so I'm intrigued. I don't think that right now he's someone that's immediately into your rotation as an NBA player, but I also don't think he would kill you if he came in to run a second unit… They're going to get a window here to see how he can continue to develop with the G-League squad.
–
On new coach Darvin Ham:
R: Everything we heard from LeBron, everything we heard from AD was that they respected [former coach Frank] Vogel to the highest degree. But I'm wondering, Mike, is, are you sensing any difference because Ham is a former player, because he is a large human being, are you sensing any difference in how the team is responding to him?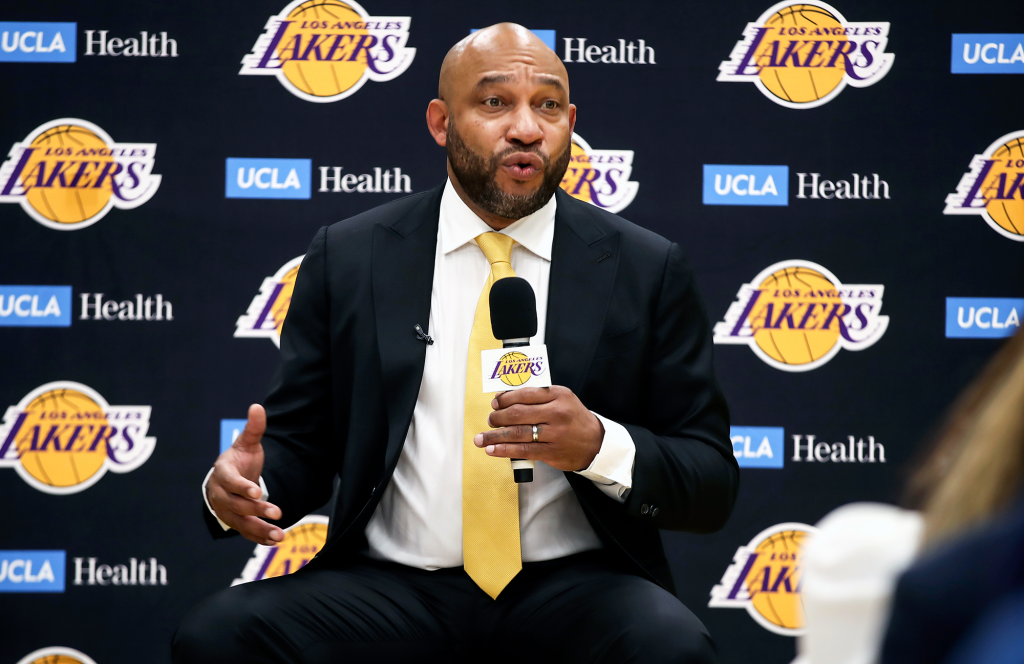 MT: Well, it's too early to say because the senior squad guys haven't really been around much… I would say stay tuned on that. But I wouldn't necessarily always relate that to the former player thing. There are some former players that don't have that same type of swagger and size, and some non-players that do have that, think about Erik Spoelstra.
–
On Free Agency:
O: I think the Lakers front office did a really good job of finding players that add to the youth bucket, athleticism, high motor, a lot of the players that they added there definitely fill that void. So I wanted to get your opinion and see your viewpoint on, since last offseason was a little different from this years, *pause for laughter* what role did Coach Ham play?
MT: Well I definitely think he had an impact there, but I also think it was pretty obvious what types of players that the Lakers needed to get this year after what we saw last year. And here's where it's tricky… [before the 2020 season] the Lakers make the trade for Anthony Davis, but they still have some pieces there, like Kuzma, KCP, Alex Caruso, these two-way type players that were really capable of doing a lot of the little things and a lot of the dirty work around LeBron and AD. So they win the title… [Losing to Phoenix in 2021] may have been over-adjusted to… maybe a push too much toward shooting and playmaking and getting away from those two-way type players… I think the realization was you have to get guys who at least have the potential to do some of those little things around LeBron and AD.
–
R: Which [of the Lakers new signings] caught your eye the most, Mike? Which one are you most excited for, as far as the Lakers free agent signings today?
MT: It's a good question, because I think I could make an argument for probably 4 of the 5 guys. The one I find myself most intrigued by is Troy Brown, Jr. I think that's probably because he's the least known… I think most people would be surprised to learn he's 22. He's just about to turn 23 at the end of July. He's got good size, he's got athleticism, and the shot looked better as the season went on… Maybe Brown is a little bit better than the league realizes.
But if I do really just have to pick one, I'll probably go to [Juan Toscano-Anderson]. I just think that the energy that he brings, the kind of belief in himself, I just mentioned my whole thing on dirty work and how important that is to have guys that are really willing to sacrifice and be winning players. And he's definitely got all that.
–
On LeBron James' Impending Extension Eligibility:
R: At the beginning of August, [LeBron] will be able to make a new contract, extend, [or] decide not to do anything. My question to you, just pretty simply is, do you see this being the Season of the LeBron Contract Limbo, or do you see that this gets wrapped up fairly quickly before we tip off for the next season?
MT: This has been one of those issues that I have had very little concern about… I don't see it as likely that either side wants to move on from that relationship. In terms of having something drag out I don't see as particularly likely, but I have no info. I have not talked to LeBron about it, I have not talked to the front office about it… To me, whatever the details of it are, I do think [they] get figured out because there's mutual motivation.
–
Listen to the full interview here for more details, including why Mike thinks Chicago is one of the best cities in the country because so much of it burned down 150 years ago.