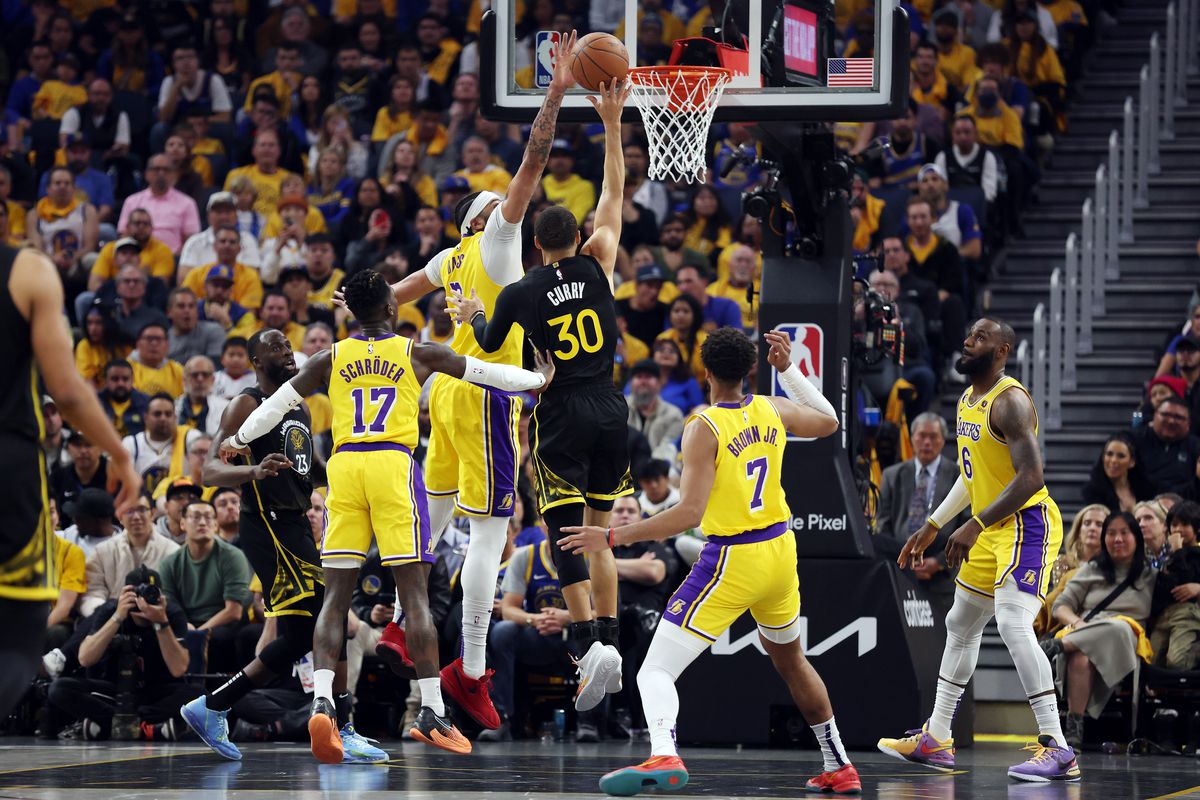 Amidst the exuberant atmosphere surrounding the 2023-24 Los Angeles Lakers in anticipation of their regular season opener, one of the few areas of concern is transition defense.
Historically, transition defense has been viewed as a major weakness. Indeed, new Laker Jaxson Hayes even called it out as a major part of opposing teams' game plan against the Lakers last year (per Jovan Buha of the Athletic):
"I remember playing the Lakers last year, that was a big key for us was attack their transition defense," Hayes said. "So I want to make sure I can help with that in getting back and setting up in the paint so people aren't just getting fastbreak layups"
But is the Lakers' transition defense really laughable, and if so, should we expect it to continue to be an issue heading into the 2023-24 regular season?
Although previous of the iterations of the team may have struggled, the current Lakers core (i.e. the team after the 2023 trade deadline and into the playoffs) has not been nearly as bad as the narratives suggest, and the numbers bear that out.
Last season, the Lakers made an enormous leap from 29th in defensive transition efficiency before the trade deadline — allowing a downright embarrassing 1.33 Points Per Possession (PPP) — to a far more respectable 11th post-deadline, when they allowed about 1.25 PPP per Cleaning the Glass.
Similarly, in the 2023 playoffs the Lakers continued to allow 1.25 PPP in transition. Relative to superior playoff defenses this ranked slightly below-average, but was not altogether dissimilar to the other teams that made deep playoff runs: the Heat allowed 1.25 PPP and both Boston and Denver allowed 1.21 PPP. Even relative to the best teams in the league, the Lakers transition defense was passable.
While allowing 1.25 PPP still makes transition plays highly efficient offense for the Lakers' opponents, the improvement from their woeful pre-deadline performance was significant. Factoring in how frequently the Lakers allowed their opponents to get in transition, this would translate to a defensive rating (DRTG) decrease of roughly 1.3 points.
To put that in perspective, if a team with a league-average DRTG of 114.5 last year improved by 1.3 points to 113.2, it would rise from ranking 15th all the way up to 7th (per Cleaning the Glass). In other words, the magnitude of that leap is the difference between an average defensive team and a very good one.
There is certainly plenty of room for growth — after all, 11th-best in transition defense is still well below 1st — but rather than accurately reflecting the current team's on-court play, the narrative of the poor Lakers transition defense is a reputational vestige of a (thankfully) bygone era in Lakers history.