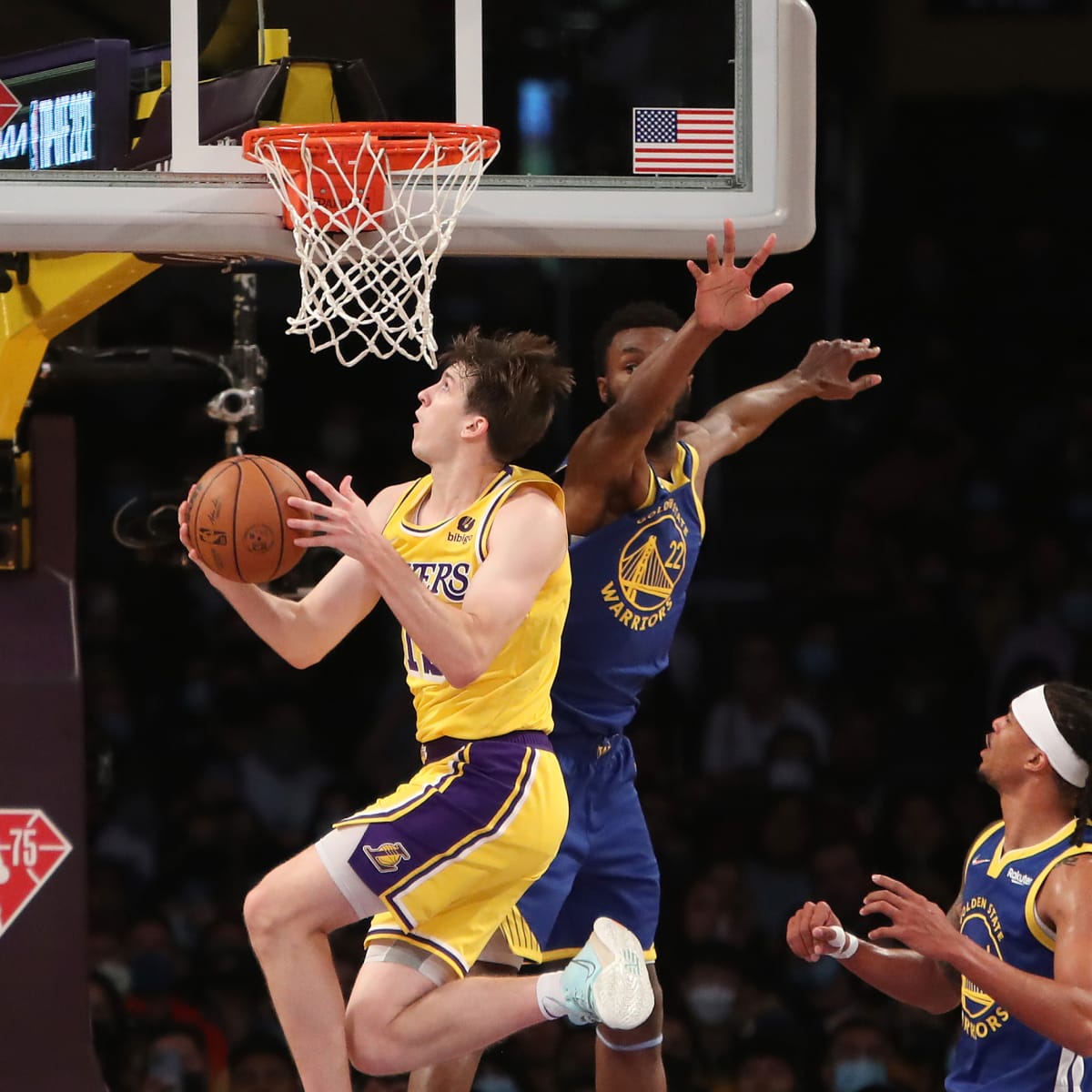 Austin Reaves is a starting caliber player for the Los Angeles Lakers. The only problem is, he's not actually starting. His game has made tremendous leaps forward, this year. When he was found practicing three times a day in the offseason his coaches asked him to chill, he simply responded with a "No". This guy has a real "Mamba Mentality". Growing up a Kobe fan can do that to you.
All the results of all that hard work are evident, every time he steps onto the floor. He has a very nice mid-range bag, and is much more aggressive offensively. His effort on defense is still very high. A forty percent shooter from three as well, and it's almost criminal that Austin isn't a starter. This needs to change, and soon.
Two Players Block Austin's Path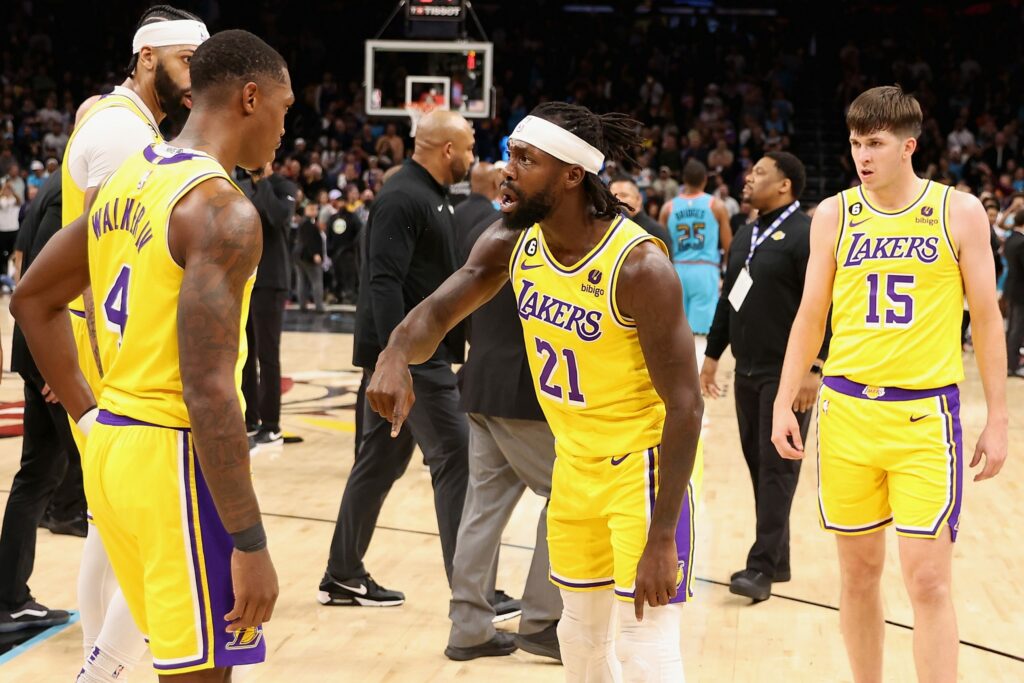 Dennis Schroeder and Patrick Beverly get all the starts, sometimes even together. They both are veterans, and are good defenders. It is only Austin's second season, so it's not too surprising he is getting overlooked for two veterans.
The problem is, he's better than both of them right now. So, on that merit he should at least be the starter over one of them, on nights that both of them start.
He's also four inches taller than both players at 6'5″, giving the Lakers some much needed size at the guard position. Not to mention he's usually a plus/minus king on most nights. One of the only arguments against staring him is his youth, and he's already proven that he plays above his years. So, by that merit there really isn't a good argument against it.
There is one argument that might be the real reason behind it, but it's also not a very good argument.
The Bad Argument That Makes The Most Sense
With Russel Westbrook coming off the bench is a success. He's also the best playmaker on the Lakers currently. It could be that Darvin Ham is thinking that this gives Austin Reaves the best chance to succeed while making the second unit stronger. I would buy that argument if he played terrible with the first unit, that's not the case though. He's played well in most situations this year. A couple of off games, but that happens to every role player.
Austin does play well with Russ, and I think Russ also deserves a lot of credit for Austin's aggressiveness, this season. He's in Austin's ear a lot, and always encouraging that aggression. So, there really is something about how he and Russ play together. It just not a good enough reason to hold him back.
Unleash Austin "The White Cobra" Reaves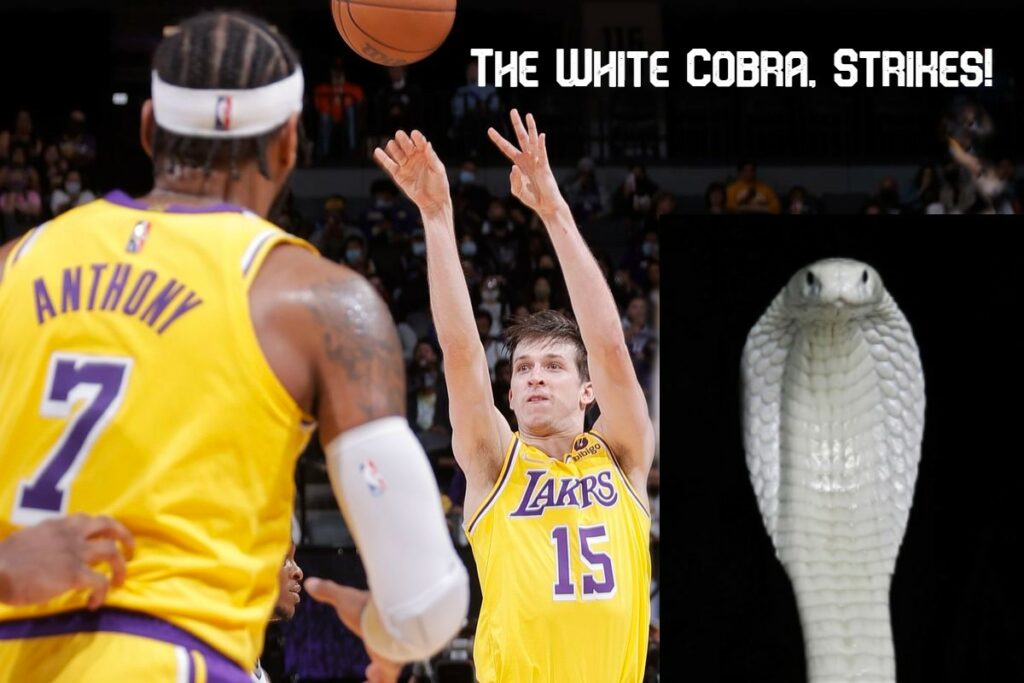 When I gave Austin this nickname last year it was born out of two things. The first was that I didn't like HBK or AR-15, and the second was because I felt his effort on the court deserved a better nickname.
He grew up a Kobe Bryant fan because his grandmother, who often watched games with him, was also a fan. It was his college coach who knew this and gave him the HBK nickname. So, in keeping with that I came up with The White Cobra, because it still respects his fandom and connection to Kobe. I also feel it's more respectful to Kobe. He's not as deadly as a Black Mamba, but he's still has a nasty bite.
Now I also understand that not everyone likes my idea for his nickname, and that's OK. I acknowledge as well that it's a little premature giving him a nickname that's even Kobe adjacent, but his fandom is what helps me give him a pass. So whether we can agree on a nickname or not, I think we can all agree that this dude needs to be unleashed into the starting lineup already.
What are you waiting for, Darvin Ham? Let's do this! Lakers Nation is depending on you.