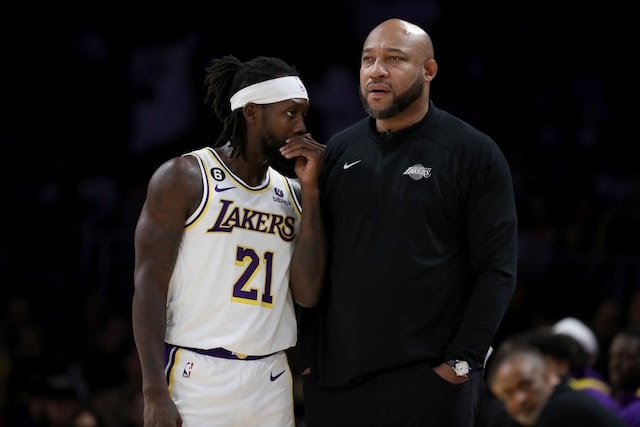 Darvin Ham has a problem. In spite of some of the good things he's done as a coach, so far. I know I wrote and article just over a week ago, about how it was too early to turn on him, but his time may be running out soon. Hear me out.
His strange obsession with Patrick Beverly and Dennis Schroeder is a real problem for this team. They were both brought in to be point of attack defenders. The problem is that neither of them have been very good at it this season. Not to mention that their offensive games are abysmal. Surprisingly, none of this has led to either losing any minutes though. Why is that?
I think most of us can agree that starting two guards that are 6'1″ and 6'2″, respectively, is truly a fools errand in todays game. Guards are big, and Bigs play like guards these days. Sometimes, you might get away with one of those guys on the court, if he's a good defender and can shoot. However, putting them both in the starting lineup is practically sabotaging your own team. Especially if they can't shoot or defend at a high level.
Ham is on the edge of madness with his insistence on playing small ball. He must be stopped.
Darvin Ham Doesn't Use His Short Leash On These Two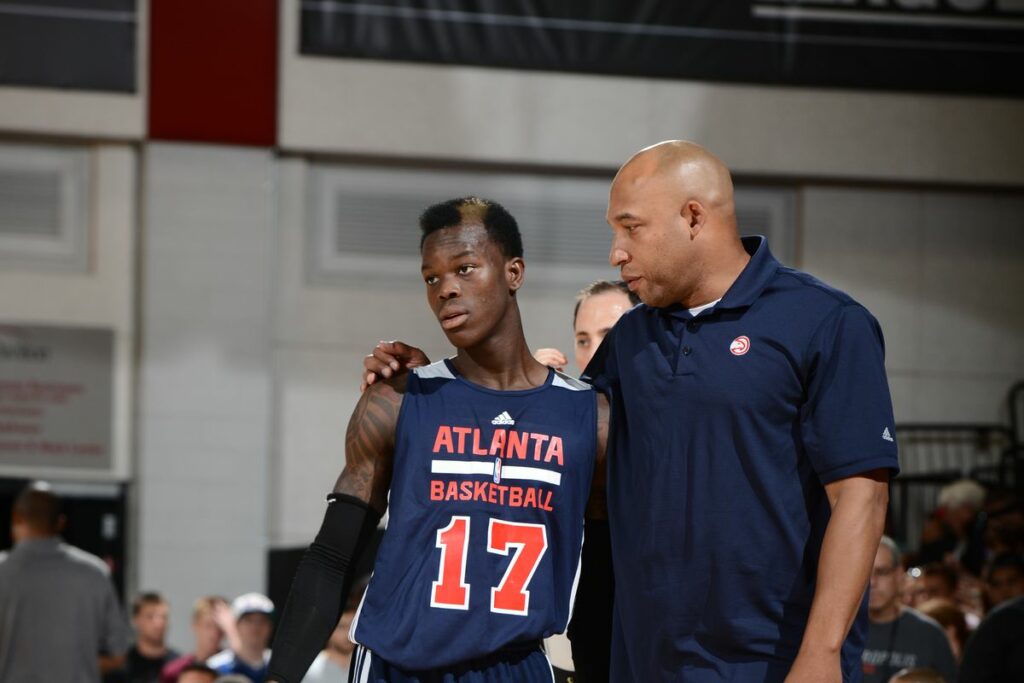 When Darvin Ham took over he made it a point to let us all know playing time would be a Meritocracy, unless you were LeBron James or Anthony Davis. Unfortunately, he failed to mention that Pat Bev, and Schroeder would be excluded from this meritocracy also.
Juan Toscano Anderson and Troy Brown Jr. have felt the wrath of Ham's short leash. Both of them have lost significant minutes, even though this team desperately needs their size on the court. From an outsider's perspective, it feels like Ham is playing favorites. Even though it's also obvious that JTA and TBJ are inconsistent, and hard to count on. It just feels like their size should tip the scales slightly in their favor despite that inconsistency, but it's just not the case.
Unfortunately, this is a recipe for disaster. Every time Ham starts both Bev and Schroeder they get off to a slow start. Russell Westbrook and the bench always have to bail them out. Therefore, It's like starting every game with a handicap. Winning in this league is hard enough as it is, why would you make it harder?
This experiment needs to end. The short leash needs to apply equally to these short guards.
Every Big That Isn't Anthony Davis Is Inconsistent
This madness and obsession with small guards is not just in the starting lineup either, unfortunately. Ham really played a lineup, last night in Philadelphia, with Lebron James at Center and FOUR guards. While Joel Embiid was in the game!!! That is borderline insanity. Fans don't want to hear any speed vs. size arguments either. Especially after a loss.
It's obvious that all the bigs, on this team, that aren't Anthony Davis have flaws. It's understandable why Ham has limited the minutes of most of them. This roster construction is also a huge problem. When it's guard heavy and the guards are the ones outplaying the forwards and centers (I know, that's a scary prospect to think about. Isn't it?), it kind of forces a coach's hand.
All of this puts more pressure on Anthony Davis. He has to stay healthy for this team's success because there is no one on this roster who can admirably fill his shoes if he goes down. Not to mention, there is also no one to help take some of the pounding down low and grab more rebounds. Thus increasing AD's chance of injury. It's a vicious and dangerous cycle. It could work, but it's playing with fire.
If They Go Small Why Not Do It Smarter?
At the end of the day, most fans just want to win. If they had to play small-ball, I think most would be OK if Ham tried a lineup of Schroeder, Austin Reaves, Lonnie Walker, Lebron and Davis instead. That's not perfect, but it seems a little bit less flawed.
In a perfect world Troy Brown Jr. and JTA would be more consistent and this problem would be a little better, because maybe Ham would only be starting one of these small guards instead of both. This is not a prefect world though. So, we just have to live with it. Until they can trade some of these guards away and get some wings, I think we can expect more of this madness.
The good news is that trades open up for the majority of the players in the league on December 15th. That's just two games away. Hopefully, the front office does the right thing this time.