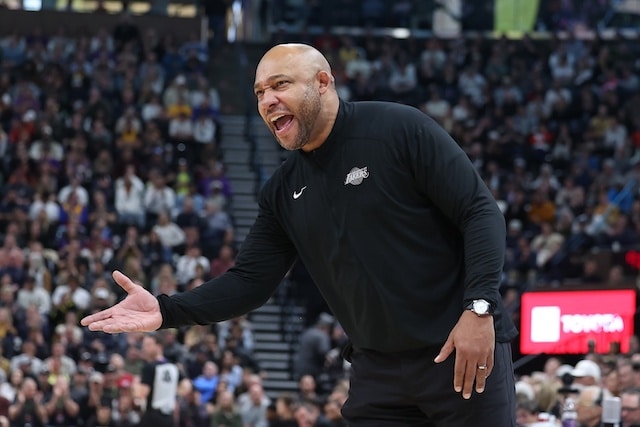 Darvin Ham is a nightmare.
At least, that's what some Lakers fans would have you believe right now. This is not only his first year as the head coach of The Los Angeles Lakers, this is the first head coaching job he has ever had. That means there are going to be a few growing pains, and we've seen some early in this season.
The problem is that Lakers fans are not too patient. Last season destroyed what tiny bit of patience they might have had. Coaching was a big problem last season, and Darvin Ham was supposed to be the solution. Can he be that solution though?
Nineteen games into the season the Lakers sit at a pitiful 8-12, in 13th place in the West. This start is worse than what some people who hate the Lakers would have predicted. Ham's rotations have received much of the blame, playing too much small ball and benching hot hands. A lot of fans are already calling him Vogel 2.0. That assessment is more than a little bit hyperbolic, and not fair. Ham has been bad in spots, but not that bad.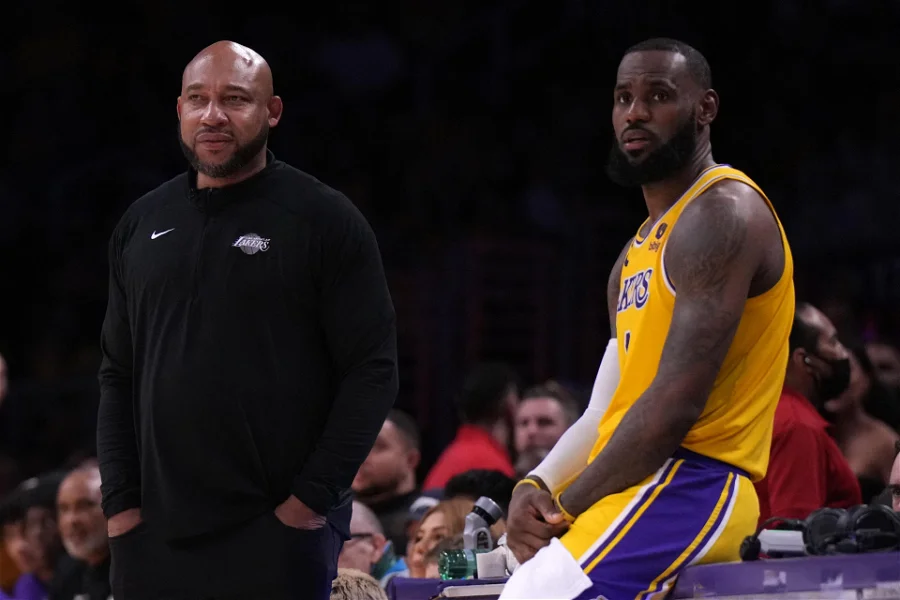 To be fair to Ham, a lot of this is still Rob Pelinka's mess. He's doing his best to find the best rotations with a logjam at the guard position. This roster was built for an anticipated Russell Westbrook trade, but it is not designed for sustaining injuries to the two stars or supporting their games to the maximum potential. He's working with a flawed product to begin with. This does not absolve his mistakes, but it should allow for a little more understanding from the fans.
This season started on a five-game losing streak. It was hard to watch at times, but even in those games the Lakers made incremental improvements. Granted, with their abysmal shooting to start the season, they really had nowhere to go but up. But that's not the only area where they improved. Each game the chemistry and camaraderie improved. They slowly started to make things go through AD, like they promised to do, and he started to deliver. The defense has been up and down but still heading in the right direction. There has been decent progress.
Ham has also done a good job of getting Russell Westbrook to buy-in to his new role coming off the bench. This is probably his greatest accomplishment so far. Laker fans have loved seeing Russ happy again, and Darvin deserves most of the credit for that.
The Lakers have won five of their last seven games. Even after a truly heartbreaking loss to Indiana at home on Monday, it's not all bad news. Before that fourth quarter collapse the Lakers were playing well and deserving of some praise. They have improved their shooting and rebounding from the beginning of the season, and are now playing at a much more competitive level.
As long as this team keeps improving, they should start winning more games. They probably still aren't much more than a play-in team as currently constructed, but they can make some improvements in the margins that can maybe raise their ceiling.
Roughly one quarter of the season has been played already, and this start has definitely not been ideal. It may seem like it's time to push the panic button, in regards to Ham, but there a few good reasons not to.
The first one is that he is adjusting and making changes in the rotations, as things have progressed. Secondly, the front office will make a move at some point to improve this roster. That could change everything and suddenly make Ham look like a genius if it works out. It could also always blow up in their face, but it's worth waiting for. The Lakers front office does care about winning, despite what some fans might tell you.
So let's relax a little bit. Ham is cooking up something. I think we'll all like the taste of it, when he's done.