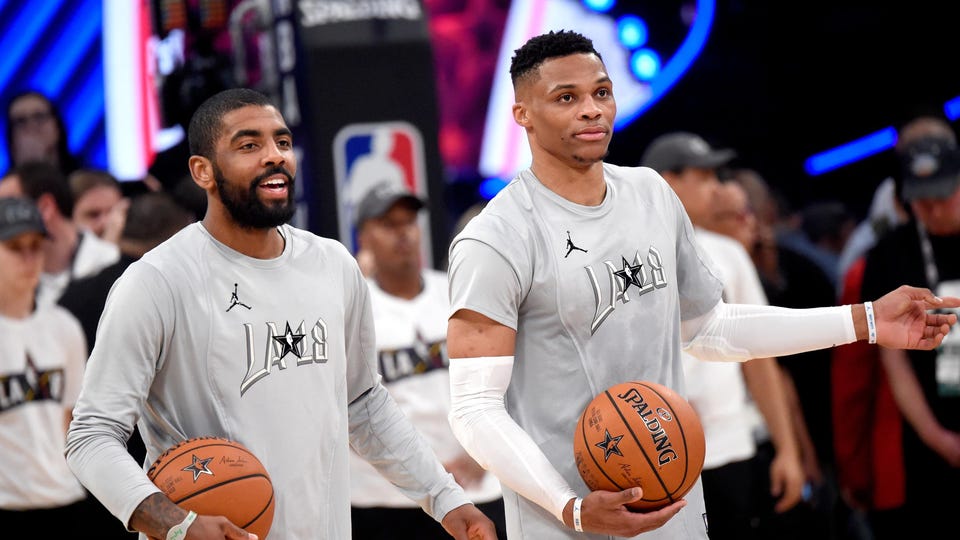 The dog days of the NBA summer are here, and with Kevin Durant and Donovan Mitchell basically putting a pause on all major and minor transactions, the league and its fans are starving for any kind of activity. For weeks we've heard the same four reports about Russell Westbrook, Kyrie Irving, KD and Mitchell recycled over and over again with 'new' information that is usually weeks old.
As Laker fans in particular, the past few weeks have been incredibly frustrating. There have been times where it felt that a Kyrie to the Lakers deal was imminent, and times when it felt like Russ was going to be a Laker on opening night. Thankfully, the one thing we seem to now know for sure is that the Lakers are actively looking to get out of the Westbrook business and have a few options to do so.
It seems clear now that L.A. is waiting to see how the Durant situation resolves itself which would then lead to some clarity on Kyrie. All indications are that Irving is the Lakers Plan A, and they are holding on executing any other type of move until they know that is no longer a possibility.
Another option that has been heavily discussed is an Indiana trade package that would bring back Buddy Hield and Myles Turner in exchange for Westbrook and draft compensation.
Twitter has been alive with debates about which package would elevate the Lakers to contender status sooner, and the discussions have been interesting on both sides. We've debated which assets should or should not be included in these trades enough, so let's skip that and take a look at the pros and cons of each deal.
Option A:
Kyrie Irving and Shooting
Let's start with what seems to be the preference of the Lakers front office.
There has been plenty of discussion about the multiple ways the Lakers and Nets can come to a deal, from a three team deal with the Spurs or Jazz to a straight up swap of point guards with some draft comp and filler pieces thrown in. In any case, it seems that the Lakers would send out Westbrook, picks and either Talen Horton-Tucker or Kendrick Nunn and receive Kyrie Irving and a wing.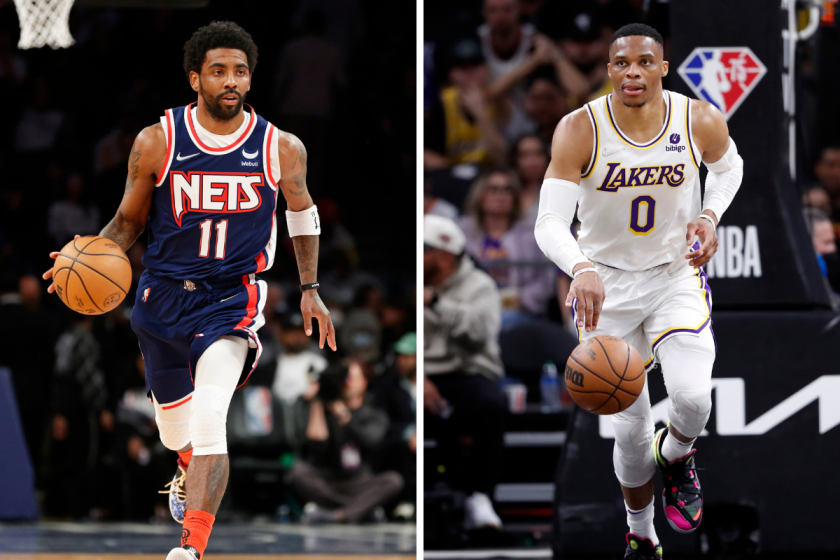 The appeal of this package for the Lakers is two-fold. First, they would add an All-NBA talent whose game fits seamlessly with Lebron James and Anthony Davis and who can carry your team alone for stretches offensively.
Second, they would also add a wing (Joe Harris, Seth Curry, Josh Richardon and Bojan Bogdanovic are just a few names tossed around in these scenarios) who can shoot at a high level. In the case of some of those guys, they can also defend at a high level as well.
What this trade does is immediately replace a non-shooter in Russ and add two starters who can space the floor and really open things up for Bron and AD.
After the spacing nightmare we lived through last season (hello Russ/AB/THT/Rondo line-ups), going from Frank Vogel's unimaginative offense to a more dynamic scheme with Kyrie and someone like Seth Curry would be amazing. We're talking about a team that, when healthy, would literally be unguardable.
But the 'when healthy' caveat is a big one with this team. Kyrie is a flight risk at all times, while AD and LeBron's injury issues the past two seasons have been well-documented. Not to mention adding Harris on a recovering ankle or Curry who seems to have his own injury issues throughout the season.
And aside from injury risk you are asking AD to do a lot defensively to mask the shortcomings of Irving and potentially another player on the defensive end. Even if the Lakers were to pick up passable defenders like Harris or Richardson, the onus would be on the Brow to make this an elite unit.
But staying healthy and being cohesive defensively are issues every team will have to deal with this season. All you can do is put together a roster you believe can compete, and adding a 50/40/90 savant to arguably the best basketball player ever and one of the three best two-way players in the league seems like a pretty good plan.
Regardless of the pick compensation required to close a deal like this, it's easy to see why the Lakers are intent on waiting the Kyrie drama out a little while longer.
Option B:
Shooting and Rim Protection
The other package that we've all seen discussed for weeks is the Lakers sending some combination of Russ, Talen Horton-Tucker and picks to the Indiana Pacers for Buddy Hield and Myles Turner. This trade package has become something of a hot topic as it was made clear recently the Pacers would only be interested if the Lakers included both of the '27 and '29 first round picks they have available.
While everyone around the league understands that Russ is basically toxic to the Lakers at this point and extremely overpaid, the idea that the Lakers would have to give up multiple first for two guys the Pacers have been trying to trade for a while is laughable.
But looking past that potential package, the fit with Hield and Turner is hard to ignore.
While nobody will mistake Hield for even an average defender, Hield is one of five players in NBA history to make 1,000 threes over any four year stretch. The other four guys? Steph Curry, Klay Thompson, James Harden and Damian Lillard.
Hield may not be able to guard a soul, but putting that kind of shooting into a line-up featuring Lebron and AD would seriously test the theory that shooters go to the Lakers to die. Hield would get more open looks in one season than he's had his whole career put together. It's enticing to think of what a guy who has shot 40% on over eight threes per game for his career could do with unlimited spacing.
The other part of that package would be Turner, an elite rim protector who can stretch his game to the three point line on the offensive end.
It seems pretty clear that the Lakers intend to play AD at the four and use him as a disruptive wing defender with a center behind him protecting the rim. If that is the route Darvin Ham and Co. are going to go, you can't find a much better fit at center for AD than Turner. When you realize that anyone getting past Hield is going to have to deal with Davis or Turner, it makes Buddy's lack of defense that much more palatable.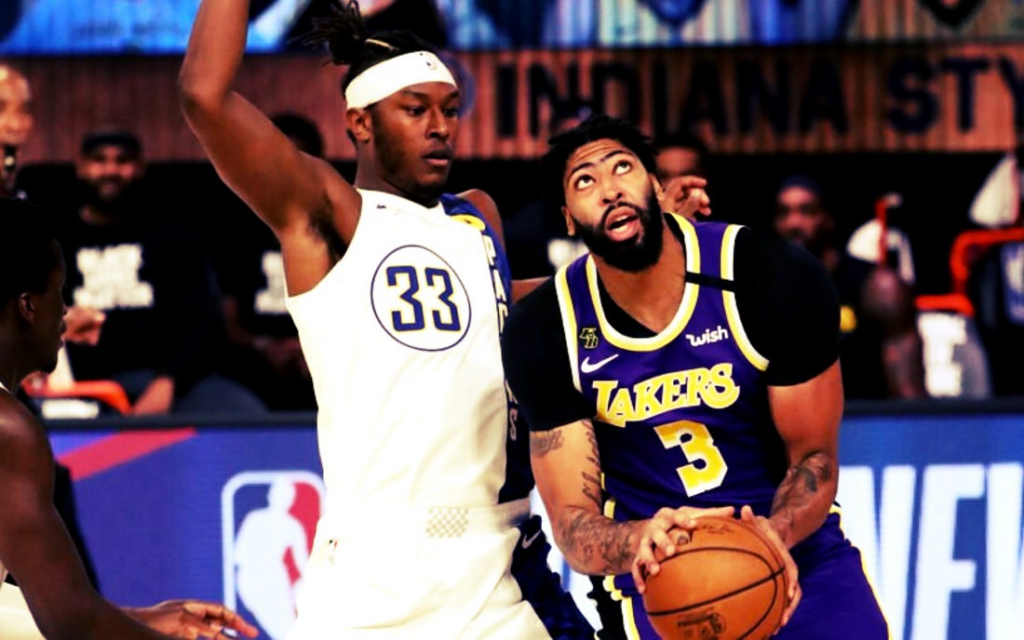 That is, seriously, a potential all-time elite front court duo on the defensive end if the Lakers were to make this move. Add someone like Dennis Schröder in as your starting point guard and you have the makings of a great defensive unit, even with Hield in the line-up.
So Which Deal is Best??
If these two options are truly on the table for the Lakers, then fans of the purple and gold should start getting excited. So long as the capital required to pull one of these deals off isn't astronomical, there really is no 'wrong' answer here.
On one hand, you could be creating the most talented, seamless Big Three ever assembled while also adding some shooting.
On the other? You are adding one of the best shooters in the league and an elite rim protector to Lebron James and Anthony Davis. Those two with solid role players is a formula we've seen work pretty well in the past.
But the question remains – if both deals are on the table, which should Rob Pelinka and Jeanie Buss pull the trigger on?
While the Indiana package brings shooting and potentially an all-time defense at the rim, I just don't see how you can pass up on the opportunity to team Kyrie Irving up with Bron and AD. I'm generally a big proponent of depth over top-heavy rosters, but we have never seen a Big Three with that much individual talent that fits together so seamlessly.
There's also the nice add-on that bringing in Kyrie likely gets Lebron to lock in an extension, whereas Hield and free agent to be Turner could keep the King in wait and see mode.
It will be interesting to see how the next few weeks play out. Whether the Lakers take one of these deals, find another package we haven't heard about or decide to run it back with Russ (please no), we can all but guarantee next season will be one filled with intrigue.
For more premium Lakers content, subscribe to the Late Night Lake Show podcast on iTunes, Spotify, Spreaker or Google Podcasts. You can follow Bill on Twitter at @itsbelal_a.
Sponsored by Prize Picks: Use our promo code: LNLS for 100% instant deposit match up to $100! https://bit.ly/3hjkfXv