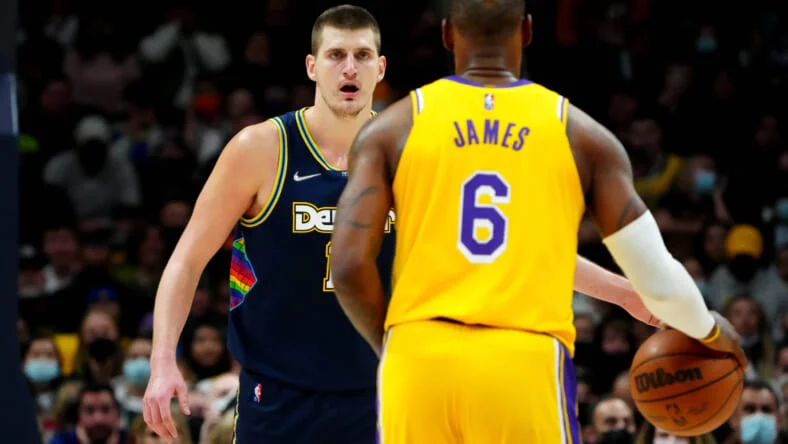 The yet-again short-handed Lakers, on a 5 game win streak, will take on the number one seed, healthy Nuggets tonight in Denver. The game will be the final of the season series which sees the Lakers currently up 2-1 on the season. Los Angeles was handed a boost today with ESPN's Dave McMenamin reporting that Anthony Davis will ramp up his return to the court when the team arrives back in LA, with optimism about Davis returning in a couple of weeks. Although tonight the Lakers will be without Lebron James, they won against the Nuggets without Anthony Davis in December, and there are things from that win that they can look to replicate.
Injury Report
Lonnie Walker IV, Troy Brown Jr , Lebron James, Anthony Davis and Austin Reaves are all out for the Lakers. Jeff Green is out for Denver.
Turnovers
Last time out, the Lakers managed to force 19 turnovers on the Nuggets and only commited 12 turnovers themselves. They'll need to take care of the ball again and force turnovers so they can get out and run for easy points. The Lakers are best when they play with pace, and it has been a key factor in their 5 game win streak, so they will need to get stops to succeed. They are the most efficient fastbreak team in the league, but it won't be easy, as the Nuggets have a top 3 offense. Mistakes may be rare.
Attack the Rim
Nikola Jokic is sensational at many things, but if he has one weakness it's his rim protection. This must be a point of emphasis: the Lakers have so many elite finishers and slashers that in the half court there needs to be one goal. Put pressure on the rim. It's going to be a tall task for LA, since no one can truly replicate Anthony Davis' or Lebron James' production. However as we saw vs Miami, if the Lakers pull together as a team and make the right plays on both ends of the floor, they may just give themselves a chance to shock the league for the second time in a week. A marquee win without their best two players would showcase that maybe this team has something about them, and that they're to be reckoned with when their stars are back healthy.