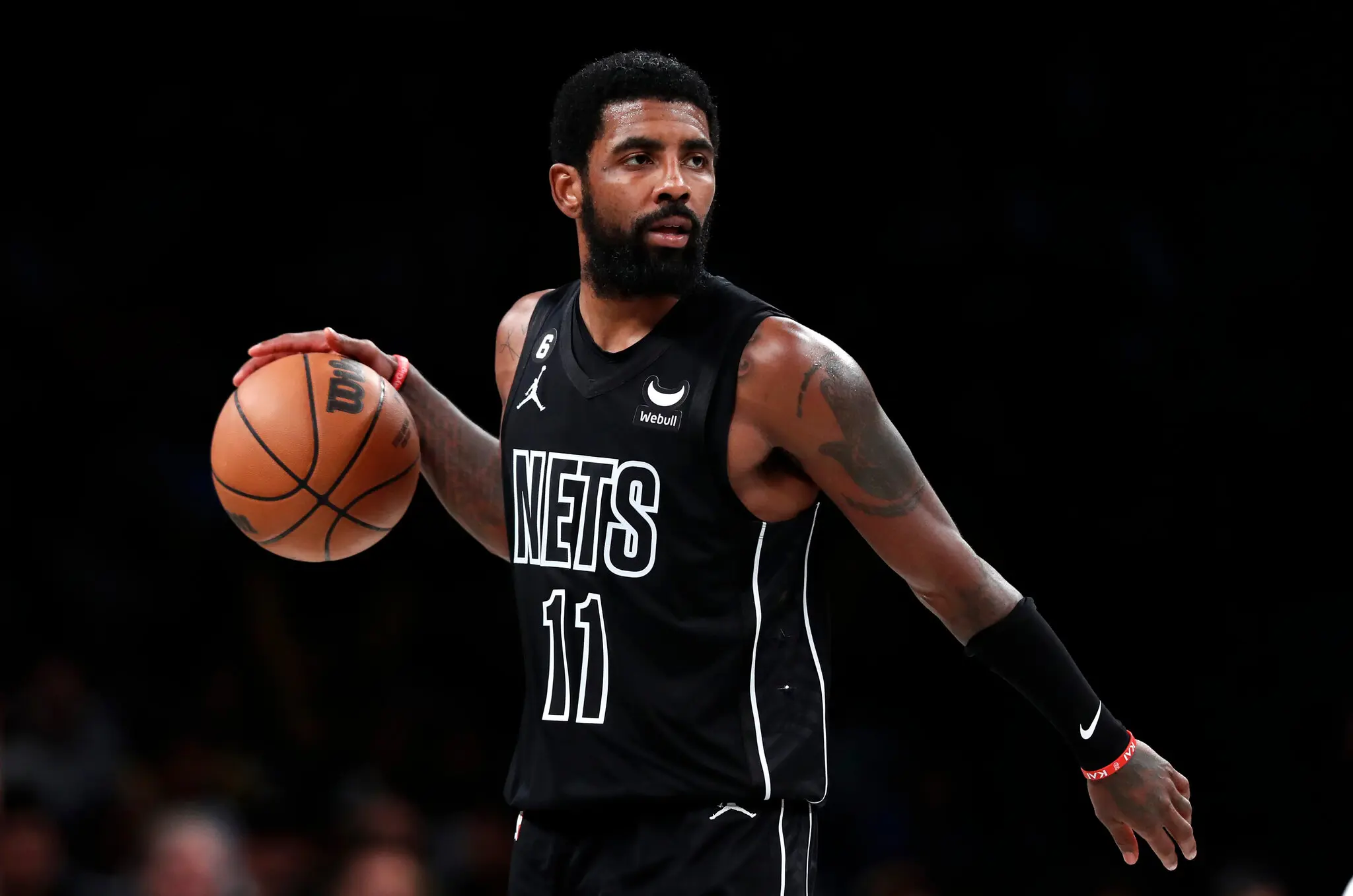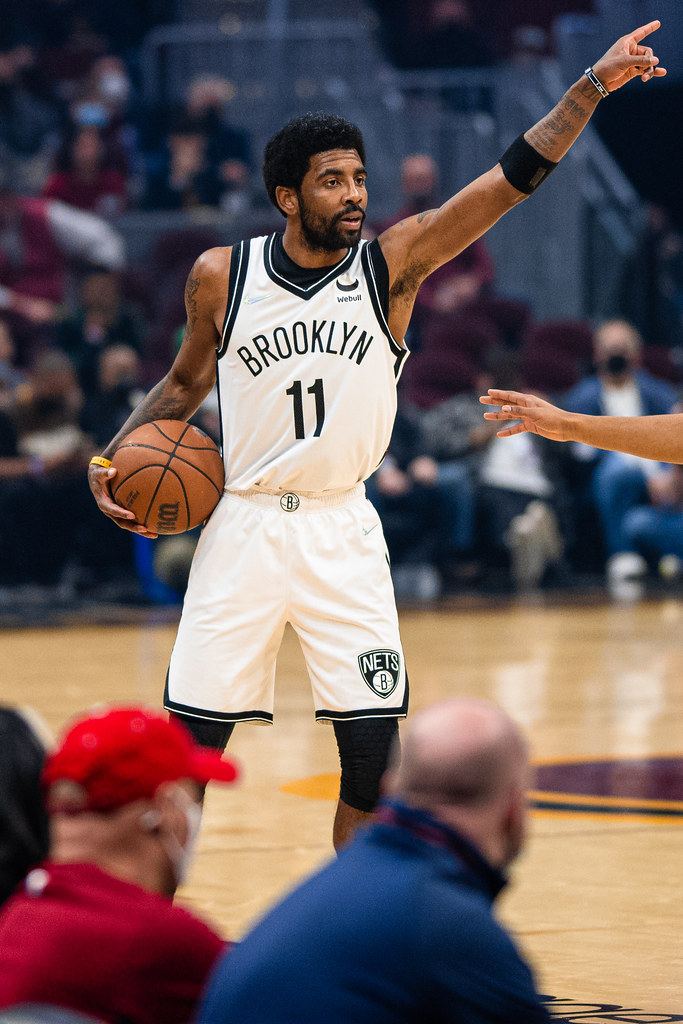 One of the NBA's most popular players has fallen from his perch.
Kyrie Irving is low on credibility right now. This is a problem for a man who actively sought out the role of "leader."
"I'm in a unique position to have a level of influence on my community," Irving said last month, defending himself after tweeting a link to a documentary that includes anti-African sentiment, Holocaust denial, and anti-Islamic material, among other xenophobic tropes. In short, the documentary–which I will not link to or mention by name–offers Black Americans an unfounded theory about our origins and is presented as something of a call to action.
Irving would go on to call himself a "beacon of light" when questioned about the tweet and documentary for a second time a few days later.
The influence he alluded to is apparent. The documentary in question has seen a spike in streams since Irving's tweet and subsequent media attention. As of this writing, the film's accompanying book currently holds the top spot in the "Christian Education" category and is ranked 5th in "People of African Decent and Black Studies" on Amazon Books, both up from prior ratings.
For many NBA media, anti-semitism was the primary topic of discussion, though ESPN's Nick Fridell did ask Irving about content he'd shared from alt-right show host Alex Jones, a more general inquiry into the star guard's recent social media use.
People who work in NBA media are overwhelmingly white and most have limited interaction with Black people outside of pop culture and Basketball, so I wouldn't expect them to know or care much about the "Hebrew Israelite" theory (I use the word "theory" loosely here) that has manifested itself in the form of street preachers and off-kilter books and programs in many of America's cities for decades. It's a common trope for Black people like Irving, who have chosen to seek out information about Black history and develop a dignified personal identity in the United States. Both are significant undertakings in a country that has never accurately taught the history of chattel slavery or the contemporary realities of institutional racism. In Kyrie's case, having been identified as an exceptional athlete at a young age and placed on the "conveyor belt" to professional sports so other people could profit from his labor and likeness, it would be even more difficult. In short, the people in his life have been more interested in maximizing his basketball potential than in teaching him about the world. Irving mentioned this during his second press availability regarding the controversy. It also bears mentioning that much of this fascination with the Hebrew Bible likely stems from Christianity–the most prominent western religion–being forced upon Black people during colonialism and the trans-Atlantic Slave Trade (those who did not convert to Christianity were often punished by death). In my not-so-humble opinion, it's an obvious attempt by an oppressed people to place themselves into the only story they've been told with a more dignified narrative. Nonetheless, the things in the documentary Irving shared and other similar media are both historically inaccurate and fuel for hate and violence. Our challenges do not excuse sharing or promoting such content.
"History in all schools are about propaganda," ESPN's Bomani Jones said when discussing Irving's remark. "No matter where you go, the history that is gonna' be presented to you by whatever the local government is, is a history that makes (the students) feel good about the place where you live…about the people who are providing you the education."
As a Black person born and raised in the United States, I can personally relate to finding unsavory and ahistorical content while looking for things I wasn't taught about myself in school or church. Some of these things are compelling, well written, and made me feel better than what I'd been given by teachers and conventional media. Therein lies the problem– this material (like all misinformation) is often predatory in nature, aimed at those most vulnerable to falling for it.
In my case, flirtation with these outlets was a brief phase in a larger arc that lead me to more credible information, a new political and economic ideology (I'm a pan-Africanist), and even a name change. Unlike Kyrie, I was able to take this journey mostly in private and without the responsibility of being a spokesperson for something bigger than myself. For Irving, each misstep will be recorded and questioned.
Part of his frustration is that more positive actions aren't appreciated equally. Then Cleveland Cavaliers beat reporter Dave Mcmenamin and other prominent NBA media shared that Irving was upset that his "I can't breathe" t-shirt in support of Eric Garner, who was choked to death by New York City police, did not receive much attention until teammate Lebron James wore the same shirt in 2014.
Matt Sullivan, who has written about Irving and his Brooklyn Nets teammate Kevin Durant for Rolling Stone Magazine and published a book about their 2019-20 season, once said Kyrie sent him a 67-page Supreme Court document on Indigenous land rights, encouraging him to write something about the topic. Irving's late mother was from the Sioux Tribe and in recent years he's been engaged with the Lakota community, including his participation in a naming ceremony in which his people dubbed him "Little Mountain". His suggestion to Sullivan also did not get much attention.
At any rate, Kyrie has the power, prominence, and resources to find an outlet for these things he clearly wants to share. He's never been published in the Players Tribune or taken the time to write any column or essay that I've been able to find. He's never hosted any public forums or events to host writers or activists he thinks deserve a bigger audience, he has not started a media company or partnered with a production company like Lebron James. He has not done much other than post on social media and blabber to conventional journalists who are not equipped to understand his causes (and don't publish to demographics he likely needs to reach to have an impact). All of these things are within his power and if he wants to lead in this manner, they are his responsibility. Furthermore, he is a vice president of the National Basketball Players Association, a union that has media partners and regularly donates to charities, including schools. He could take a more active role in changing curriculums so younger people don't have to use the alternative methods he has to discover himself, or start a charter school that teaches Black and Native American history. Both of these methods would likely have the support of the NBA and whatever endorsement partners he'll have left after this controversy. If he feels he's being misunderstood when he speaks, he has access to media coaches, copywriters and plenty of other PR professionals who could help his message land more effectivley.
Kyrie Irving isn't in hot water just because he's dealing with people who don't understand him. He's taken haphazard and half-assed approaches to leadership and lashed out at people attempting to hold him accountable for this shortcoming. Furthermore, he's wasted several chances to disavow the material in the documentary he linked to, which made the controversy a bigger media story, put members of his union in an awkward position and forced other people's hands. He's also eroded a lot of good will with similar gaffes over the past few years.
I don't believe Kyrie to be anti-Semitic, but he has given the exact type of hatred and ignorance he claims to be fighting against more juice by sharing the material he tweeted. That's why it's critical for him to be more patient and responsible moving forward. If he wants to be a leader, he needs to take on everything that comes with that burden; tweeting isn't teaching.
I hope Kyrie is given more chances to do better, but even if the NBA and its fans are done with him, he has the money and freedom to do all of the same things away from the spotlight. If he's genuine in wanting to be a beacon, not just upset he isn't being celebrated, he can prove that too. Many people without his reach are counting on someone to step up in that regard. For whatever it's worth, he'd have my personal support every step of the way if he makes good on those chances.