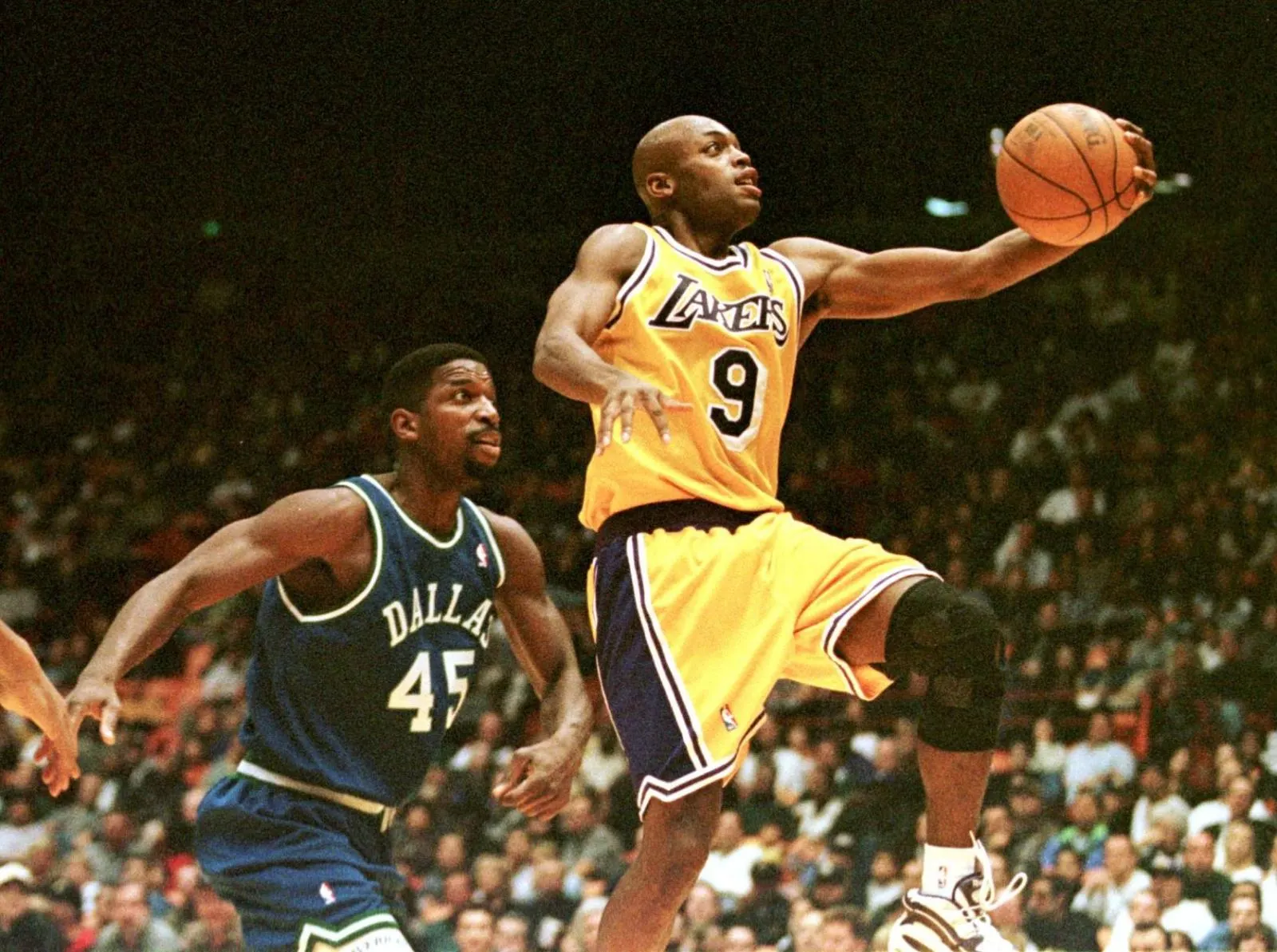 In a real treat for the LNLS crew and community, fan-favorite former All-Star Laker guard Nick Van Exel joined the podcast for the first ever Laker Legend Edition of the Late Night Lake Show. Van Exel, whose Laker career spanned the turbulent mid-90s between the retirements of Magic Johnson and James Worthy and the rise of the Kobe/Shaq three-peat teams, was a standout combo guard and consistent source of exciting play for the first LA teams to wear the name "Lake Show".
In a wide-ranging discussion, Ricky, Stace, and Jody talked with Van Exel about his playing days, memories of old coaches and teammates, the perspective he has on the modern game, and what Stace and Jody have in common with Jerry West.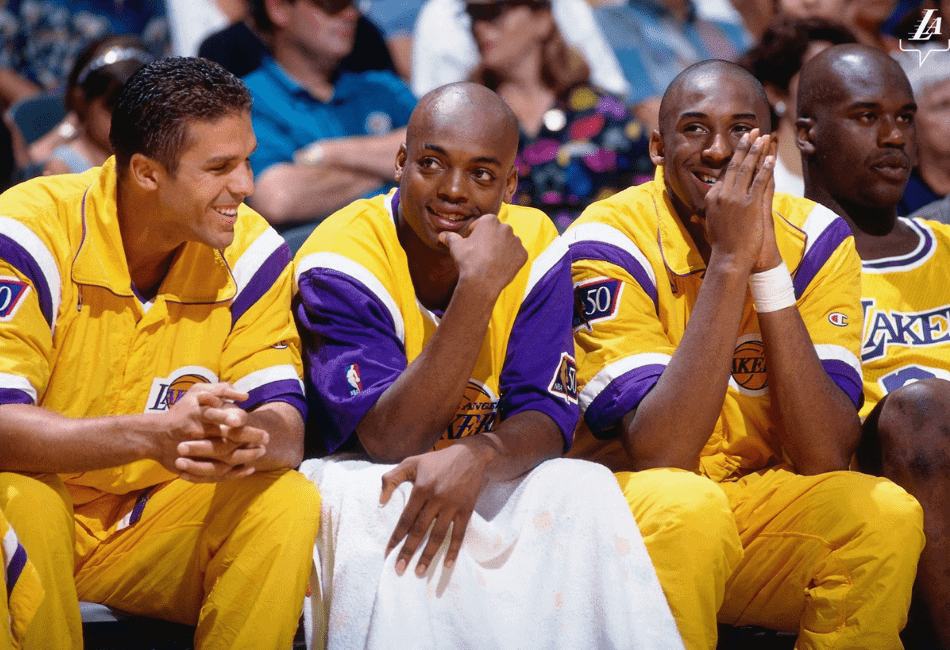 On Having a Chip on His Shoulder
Stace: I just want to jump right into it, watching you as a kid… what stood out to me was not only your passion for the game, but also that unapologetic, needing to prove something night after night type of mentality. I just want to know what does that stem from, that whole "chip on your shoulder" type of energy?
Nick Van Exel: Just the way I was brought up. In Kenosha, Wisconsin we played a lot of pick-up ball on the playgrounds, and it was real physical, and we always played against the guys that were older than us…It just made me tough. I definitely got to say just the upbringing, being brash, talking trash on the court, and really just not afraid to fail. I think I learned that at an early age.
Ricky: Speaking of which Nick, you know a lot of people kind of sleep on the talent that comes out of the state of Wisconsin. Kenosha is not… a place that is widely known outside of the state of Wisconsin… I just wanted you to spend a couple of seconds talking about, you know, Wisconsin basketball, your upbringing, and how that influenced how you play?
NVE: Back when I was coming up, coming from a place like that you don't get a lot of recognition… You always got that chip on your shoulder because you hear about all these other guys… and you just want an opportunity to play against those guys. So that was, like, my hunger. I wanted to show whenever I got an opportunity that, look man, I'm just as good as big city guys…. I just think it's the chip on your shoulder because nobody is giving you a lot of attention in that area.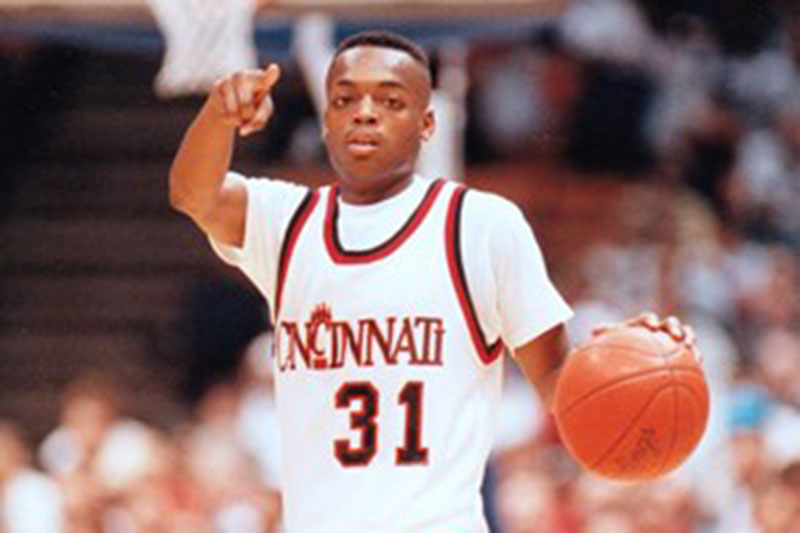 On Modeling His Game
Jody: One thing that I was wondering… when you were coming up, did you have guys whose games you wanted to model your game after, whether they be nationally known guys or just locally respected guys that you hooped around?
NVE: So first… I was never a flashy player until I got to LA. I was always just very basic, make the right pass, because I hated turnovers. I didn't really start, like, throwing behind-the-back passes and sh*t until I got to LA, because it was Hollywood… There were a couple guys in my area that I grew up watching… and then as I got a little bit older Pearl Washington was one of my favorites out of Syracuse, I used to love watching him play. Isiah Thomas, Tiny Archibald, Magic. I really wouldn't say I tried to pattern myself after those guys, I just watched those guys and learned… I was just a student of the game.
On Jerry West
Stace: Speaking of the chip-on-your-shoulder type of mentality, I know that was something that Jerry West mentioned… he actually called you his favorite Laker at that time… I think you and Kobe are the two that I've heard him really have a lot of passion when he's talking about his favorite players. Give me your take on your relationship with Jerry West coming into the league and throughout your career as a Laker.
NVE: I hear that all the time that Jerry says that but I'm like damn, why would you trade me to Denver if I was your man? *laughter* At the time when he traded me, Denver had won like 15 games. I was like, "I'm your man and that's how you're gonna do me?"… But to me it's unbelievable the way he spots talent. That sh*t is crazy. He has a really freaky gift for spotting good talent. But one thing with Jerry, Jerry always kept it 100 with me. I'd be out there bullsh*tting, he'd bring me in the office the next day like "What you want to do man? What do you want your career to be?"… and he was right.
I tell people all the time, there's a difference between being good and being great. I look at myself as a good player. The great players, they show up every night. Me, I had a problem with getting up for guys who I probably knew I could dominate… It's levels to it, and I think if I'd have had that kind of approach I'd have been a lot better. But Jerry was a guy that, he wanted me to be at that level every single night no matter who I played, and if I wasn't he'd let me know. I think the main reason he traded me was… he was like this kid is so young and so stubborn, I don't think he's gonna get it.
On Practices with Young Kobe Bryant
Stace: I want to talk a little bit about the Kobe years, especially when he first came in. I don't know why, I just imagine the dynamic between you two especially being hilarious to watch as an outsider, because of the level of trash talking and competitive nature… so I want to know about that relationship between you and Kobe.
NVE: The Kobe situation… it was a weird situation because Kobe, he was 18 coming into the league. And you know, guys are not really ready at that time… We felt as a team that we were ready to win a championship, and you know with a young guy like Kobe coming in, and the pressure on a coach, "Play Kobe! Play Kobe!" from the media, from the fans, you know what I'm saying? So it was kind of tough on the coach and even the players at that time, because Kobe wasn't ready [even though] he was a good player.
Practices was some of the most intense practices when Kobe came, because he didn't know any difference from a shoot-around to a practice to a game… he was just, like, full speed… His mindset, Kobe was so far ahead of us, he was so much more mature than we were, you know?… Kobe had the mindset of legacy. He had the mindset of being great.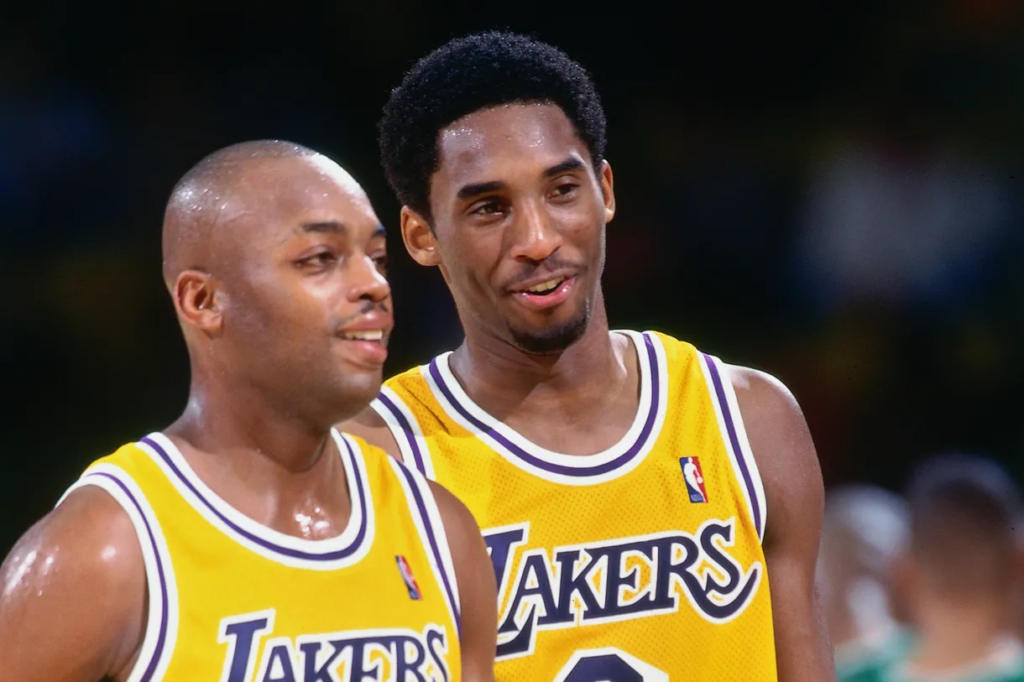 On Being Slept On in Various Drafts
Jody: You were a second-round draft pick, and the Lakers drafted George Lynch before you. Do you remember how that was, was there like a weird dynamic between you two or did you have a chip on your shoulder being a second-round draft pick?
NVE: No, not at all… I remember one time when Jerry was like "we really wanted you," and I said "Jerry, you didn't want me that bad, motherf*cker." *laughter* When we got there I had just played George in the Elite 8, he was at North Carolina and I was at Cincinnati and they knocked us out. So I had just played him and I was familiar with him. I don't think players really think about that. I think fans care about that. Players, it's not a big deal for them.
Stace: Just because it's been on my mind, obviously, for a minute. You came to kind of know about [Late Night Lake Show] through that fantasy draft that we had where I failed you.
Ricky: Wait wait wait, we're just gonna have to re-show it for the class real quick.
Jody: Hey Nick, for the record, I wanted to draft you too, me and Stace were both sick.
NVE: You know what, you know who y'all sound like right now? Jerry West.
—–
Be sure to check out the full interview for even more great content, like Nick's craziest experience as Shaq's teammate, his all time Laker starting five, his picks for NBA contenders this year, and plenty more.
—
Shop for official NBA merchandise at The NBA Store, the official affiliate of LNLS. Use our affiliate link nbastore.vwz6.net/LNLS and show your support! #sponsored
Looking for some extra excitement during the game? Check out Prize Picks and use promo code LNLS for a 100% instant deposit match up to $100! Visit https://bit.ly/3hjkfXv to get started. #sponsored
Join the Sharpz community and share your bets with the pros! Use promo code LNLS to sign up at https://www.sharpz.app/ and elevate your sports betting game. #sponsored
Don't miss a single episode of the Late Night Lake Show Podcast! Follow on Apple Podcasts at https://apple.co/3HG3YYV or on Spotify at https://spoti.fi/3xMokvo.
Stay connected with the Late Night Lake Show on social media! Follow @LateNightLakers on Twitter https://bit.ly/42yaudF, like Late Night Lake Show on Facebook at https://bit.ly/3M83Qp4, and follow Late Night Lake Show on Instagram https://bit.ly/42TBsgb