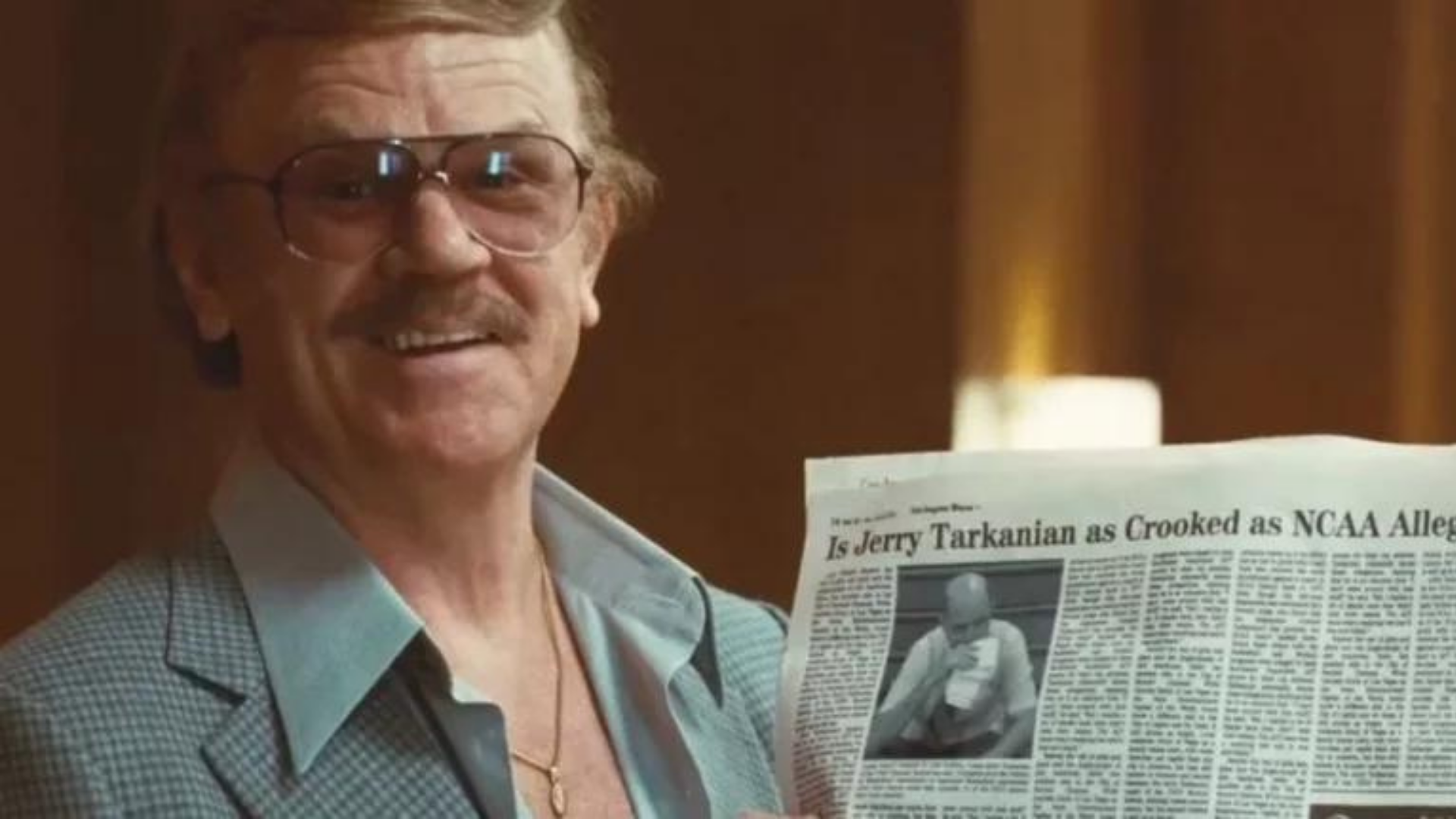 If there is one running theme through the three episodes of Winning Time so far (aside from rage and sex, those trusty HBO-tested ratings generators), it is the brutal difficulty involved in human beings attempting to force ourselves upon events. It is an uncomfortable fact about our lives that so much of them is determined by the seemingly random or unpredictable: chance meetings, long-past experiences, spur of the moment decisions, good old-fashioned luck. The emotional, physical, and even financial cost of overcoming these potent natural barriers to control ranges from expensive to ruinous.
In the third episode, Jerry Buss faces several reminders that, while he may be the man at the top of the organizational chart, that does not mean that he is in control of the situation. As the episode opens he is not even in control of himself. Rather, he is in his office railing at Jerry West, who has just unceremoniously (if unintentionally) torpedoed his inspiring speech to the staff by resigning as head coach of the Lakers.
West forces Dr. Buss to seek a new coach three weeks before training camp opens. The previous owner of the team has saddled him with massive debts to repay. His scheduling manager has difficulty filling enough nights in the area to make it profitable. On top of all that, Jerry Tarkanian, his favored replacement candidate for West plays extremely hard-to-get. His plan of creating a team and league on the pure-entertainment model of midcentury Hollywood is in growing peril on a number of fronts.
His response is to continue pushing chips to the center of the table. He goes to Las Vegas in person to woo his reluctant coaching target and offers Tarkanian an extravagant amount of money. In doing so, he simply ignores the inferno of red ink engulfing his books, much to the consternation of his business partner Frank Miriani and Forum manager Claire Rothman. Yet cost-cutting austerity won't save the franchise financially or fulfill Buss' particular need to create something new and fun. The way to do that is to go big on creating a great team with an exciting style that puts asses in the seats.
Dr. Buss' storyline is so compelling because it is so universal. We all struggle against entropy in the attempt to order our lives, and we all face similar doubts and frustrations when unexpected complications make us choose between doubling down or seeking an alternative path. We feel for him, root for him, and are frustrated by him in almost equal measure. He reminds us how thin the line really is between bold creativity on the one hand and delusions of grandeur on the other.
Meanwhile, the other main characters have rather different problems in this episode. Rather than attempting to assert their control over situations, they are forced to reckon with the fact that they are very much not in charge of what is going on around them. Rothman and Miriani are flummoxed as Buss asks them to repeatedly draw blood from financial stone. Rothman's frustrations are vented in part at Jeanie Buss, who struggles to be taken seriously given her status as the boss' daughter. Jerry West's motives have been misinterpreted by everyone in the organization, and when he accidentally finds the perfect man to replace him in Jack McKinney he finds that Buss is no longer interested in what he has to say. Pat Riley, making his first appearance, tries desperately to get back around the game by auditioning to partner with Chick Hearn as a commentator. It is a job at which no one, including himself, thinks he is likely to excel.
Magic Johnson and Norm Nixon represent especially interesting cases because of how well suited they are to magnify one another's insecurities. While neither would admit it, they intimidate each other. Johnson looks at Nixon and sees an experienced NBA player, an established and fashionable Los Angeles native, and a man who is simply more comfortable in their shared environment than he is at this point. Nixon looks at Johnson and sees gifts of personality, athleticism, and marketability that he simply cannot compete with.
Fresh from Lansing, Michigan, Johnson finds himself navigating the status-obsessed masquerade of high-society Los Angeles with uneven results. His confidence and amiability go over well, but his naivete gets him into trouble. After Magic meets a shady character at a movie premier who is promoting an *ahem* after hours establishment, his teammate Jamaal Wilkes advises him to avoid such types. "They don't have anything to lose," Wilkes says presciently, "you do." Johnson does not take his advice. The bewildering combination of enormity and shallowness around him makes him lonely, and he takes the simplest and most easily attained form of companionship available to him.
While there was plenty of interesting development, this was the first episode in the series in which the pacing felt somewhat off. There was an awful lot of tension building, but very little release either in the form of progress or humor. Also for the first time in the series (but inevitable at some point for any HBO show) the reliance on sex to provide a distraction or expository device became excessive. 
In spite of those flaws, the episode still succeeds at expanding on the themes of the second episode, which emphasized the grittier side of the struggle to succeed. The series so far has succeeded in throwing bones to long term fans without feeling like a constant inside joke and engaged with serious issues without seeming preachy. It has also given us a look at interesting characters while making the necessary (if sometimes irritating) sacrifices to necessities and conventions of modern big-budget television. Most importantly of all, the writing and acting have made each episode of Winning Time simply fun to watch.