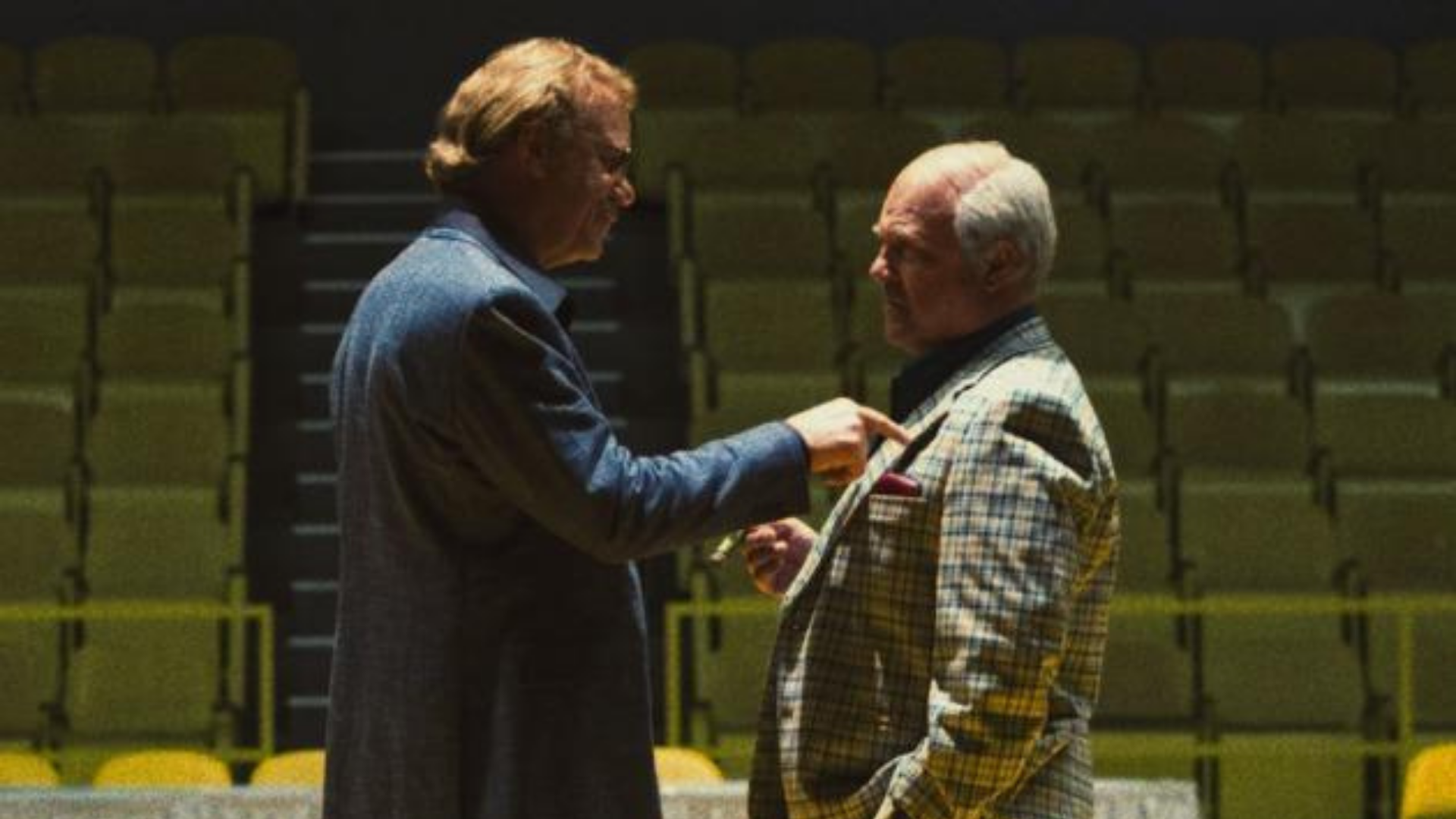 When we left Magic Johnson at the end of the first episode of Winning Time, he was assuring the press that, having added him, the Lakers would not just be good, they would be "exciting." The viewer might be forgiven for interpreting that dramatic placement as an indication that some exciting basketball would be played in the following episode, but one who did so would be mistaken. But while that may be disappointing, there were still several interesting developments in this episode, headlined by appearances from legendary Celtics coach/executive and the personal Lord Voldemort of every old-school Lakers fan, Red Auerbach.
The most obvious shift in perspective in this episode comes from the sharper, angrier, more competitive sides we see from the both of the main protagonists, Magic Johnson and Dr. Jerry Buss. Throughout the first episode they overcame obstacles with talent, optimism, and sheer charm, not so much running through them as dancing around them. In the second, they run into more fundamental conflicts they cannot simply finesse. When they recognize that fact, their cool, smooth exteriors begin to melt and we get a glimpse of the fire within.
We rejoin Magic Johnson back home in Lansing, navigating a pair of close relationships with women in his life that have been strained by his Think Big, Worry Less way of moving. The first is his mother, who is clearly irritated with her son for not being in school during the summer after the draft. Her primary concern is for his spiritual well-being rather than his financial or social status. Meanwhile, Magic is a young man flush with cash, eager to use it to get things for the people he knows, and just as eager to receive the gratitude of his beneficiaries. He purchases a lavish bathtub for his mother as a gift, only for her to suspect that she is being bought. She makes it clear to her son that her approval is not so easily secured.
It is that same attitude that has left Johnson estranged from his one-time girlfriend Earletha "Cookie" Kelly, played by Tamera Tomakili. While she cares deeply for Magic, she does not care for the way his success has affected how he interacts with others and how he sees himself. One memorable scene finds him visiting her at her workplace, conspicuously on her new boyfriend's day off. After a few minutes of back and forth, Johnson arrives at the point by telling Cookie he still loves her. Her response is telling: "not as much as you love you." To that, he has nothing to say.
To vent his frustrations, Magic decides to arrive at a neighborhood pickup game in his (exceedingly shiny) new car and embarrass Cookie's new man, who is a regular at Bible study but is most certainly not an NBA-caliber basketball player. Magic proceeds to clinically dissect the poor man on the court while reminding him between possessions that, in polite terms, he could go nowhere Magic had not been before. The similarity between this incident and Magic's own humiliation by Norm Nixon in the first episode is striking. Both men use the court to assert dominance over their rivals in a way they are unable to in the external world. Yet while both are successful on the court, neither is very successful at making himself feel better.
Meanwhile, we find Dr. Buss also held at bay in this episode. He seeks out Celtics executive and self-described miserable bastard Red Auerbach, seeking advice on building a winning franchise and candidly sharing his belief that a successful team in Los Angeles would be a positive development for the struggling NBA. He is rebuffed by Auerbach with exquisite disdain. It is plain that Auerbach sees Buss' here-for-a-good-time-not-a-long-one approach to life as unserious and unfocused, fundamentally lacking the discipline necessary to build a consistent winner. When the Boston man condescendingly suggests that Buss simply enjoy himself and not worry about the on court product, Buss ends the conversation in disgust.
But, as with Johnson, when Dr. Buss sees his friendlier overtures shot down, his harsher side emerges. There is another meeting between him and Auerbach, on the floor at the Forum. After Auerbach gloatingly recalls the Celtics' Game 7 victory there in the 1969 Finals, Buss throws down the gauntlet. The battle lines are drawn. Both men have declared their intention to cut out the metaphorical heart of the other, and only one can succeed. Buss' insistence that he would beat Auerbach and "whoever comes after you until people forget the Celtics" is sure to bring a smirk to the face of the Laker fan, who cannot help but recall that since the time in which this scene is set the Lakers have won eleven championships to Boston's four.
Then, in the climactic and final scene of the episode, Buss stalks into the Lakers offices still fired up from his interaction with Auerbach on the Forum floor. He stands on a desk and announces to the room at large that the comfortable, complacent, second-place-and-fine-with-that culture of the Lakers organization is dead, to be replaced with a drive to win every single game. He gets reluctant messages of support from the Forum staff, from general management, and even from mercurial head coach Jerry West, with whom Buss has been in continuous conflict during the first episodes over the proper use of Magic Johnson. "There's just one piece that doesn't fit," West tells a stunned Buss as the episode closes, "it's me." He hands in his resignation.
The portrayal of West through the first two episodes is the most controversial and, perhaps, the most objectionable aspect of the show so far. He is presented as profane and irritable, prone to outbursts and in possession of an extremely keen sense of grievance. All of that is undoubtedly accurate. The show even briefly examines West's troubled childhood in West Virginia and lifelong battles with depression, about which he has often spoken publicly in the last ten years.
What the show has not (yet) done is to show the sources of West's irritation with the organization, particularly Bill Sharman and Jack Kent Cooke, going back to his days as a player. West was, in general, treated shabbily and deceptively by the Lakers organization in the 1970s. These missing details make the depth of West's frustrations seem ridiculous on screen at times, and take away somewhat from what should be the unique perspective of the character. While his time as head coach is over, it is to be hoped that West's character gets a fuller treatment in the rest of the show.
The first episode of Winning Time was directed by also-producer Adam McKay, and the influence of his excellent film The Big Short was felt at many points, particularly in the detached, lighthearted way the characters engage with the audience. The second episode, directed by Jonah Hill, significantly downplays that element in favor of emphasizing the internal frustrations of the characters and how their actions are motivated by those frustrations. 
Even when the characters seem to succeed in this episode, as when Johnson dominates his romantic rival on the court, the underlying lack of fulfillment continues to gnaw at them. Buss feels good talking big to Red Auerbach, but his franchise remains second-best when the conversation is over. Johnson can embarrass his ex's boyfriend in front of her, but there is no tearful breakup after the game. The hunger both characters have for deeper, more lasting success is thus set to drive the series for the remainder of this first season. It looks to be an interesting ride.