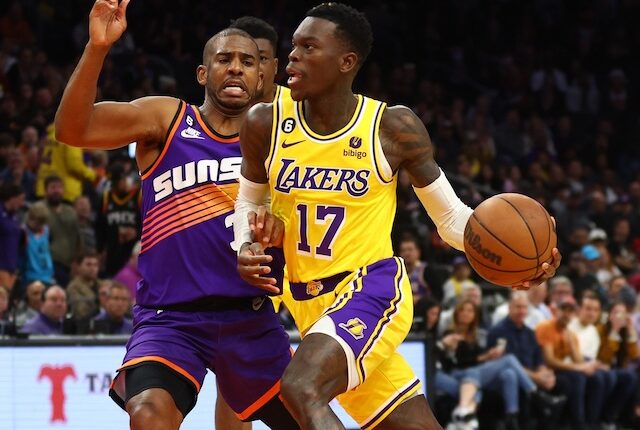 There are 10 games to go in the NBA season, and the Lakers' potential postseason fate hangs in the balance as they take on the Phoenix Suns in Crypto.Com Arena. The Lakers are coming off a win vs the Magic and currently sit 35-37, a half-game back of the play-in tournament. Every game is crucial for LA down the stretch, and this has to be a win against the shorthanded Suns if they want to secure a spot in the postseason.
New Starting Lineup?
Since LeBron James' injury, the starting lineup's production has not been great to start games. We often see the Lakers in deficits which the bench unit tends to rectify. Darvin Ham hinted pregame at a new starting lineup, and after his career-high performance you have to wonder whether this means that Austin Reaves will get the nod alongside D'Angelo Russell. Ham may also opt to go with Wenyen Gabriel in the starting lineup next to Anthony Davis, a duo which has seen success on the court, especially on defense.
Anthony Davis
Since Lebron James' injury, Anthony Davis' production has been inconsistent. For 3 or 4 games he looked like the best big man in the league, but in others he looked disconnected from the offense. With no Deandre Ayton for Phoenix, Davis has to be the focal point of the Laker offense. The Suns simply don't have the big man depth to slow AD down. The Lakers should get AD aggressive early, set the tone, and force the Suns defense to deal with him.
Austin Reaves
Austin Reaves is coming off a career night, scoring 35 points against the Orlando Magic. The second-year guard has been sensational of late and his production has been absolutely priceless for the Lakers. His ability to draw fouls and and his secondary playmaking (particularly his ability to feed Anthony Davis in pick and roll situations) have become valuable parts of his game. If Reaves were to be inserted into the starting lineup there is one person it would definitely benefit, and that is Anthony Davis.