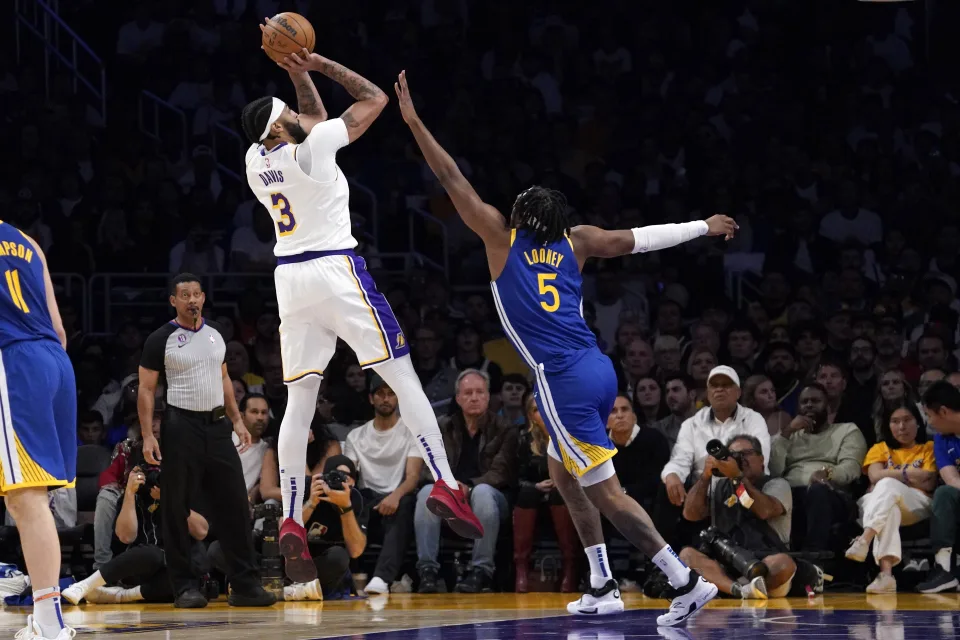 Game 4 in the Lakers vs. Warriors Western Conference semi-final series is tomorrow night. Last night, the Lakers took Game 3 to build a 2-1 series lead.
5 HITS
AD had a huge game, particularly on the defensive end. AD had four blocks to go with his 25 points and 13 rebounds. He was simply all over the floor! 
Lonnie Walker IV contributed big in this win! He played 24 minutes and scored 12 points. That shooting stroke is just too pretty to sit on the bench. Stay with Walker over Troy Brown, Jr.
D'Angelo Russell got off to a quick start by scoring the team's first 11 points. When D'Lo scores at least 20 points, the Lakers usually win. He finished with 21 points and 5 assists. 
LeBron impacted the game, and when LeBron impacts the game in multiple ways, the Lakers follow. LeBron was two rebounds and two assists away from a triple-double. His activity at 38 continues to amaze me! 
The starters were able to rest most of the 4th quarter, specifically LeBron and AD. Reaves too, which is important! He's gassed running around guarding Steph and Klay. 
5 MISSES
Look ahead! Lakers can't go into Game 4 on cruise control. They tend to relax when they are up a game in a series. 
Austin Reeves looked better last night in the 2nd half, but he is really struggling in this series. He's settling for too many jumpers. His game is being aggressive, getting into the paint, and drawing fouls. More of that, please!
Not widening the rotation just a little is a problem. While LA's guards are running around after the Warriors' shooters, not finding minutes for Malik Beasley to run off of screens and expend some of Klay's or Curry's energy is a head-scratcher. I know Beasley has struggled, but he adds an extra wrinkle. 
Lakers fans brought the energy in the series against the Grizzlies. I didn't feel that same energy in Game 3 of this series. Get louder, LA! 
Darvin Ham and his coaching staff did not offset the Warriors adjustments in game 2. They must be better prepared in Game 4. Can they do it? I haven't been too confident in Ham's decision-making this season, and this time I hope I'm wrong.