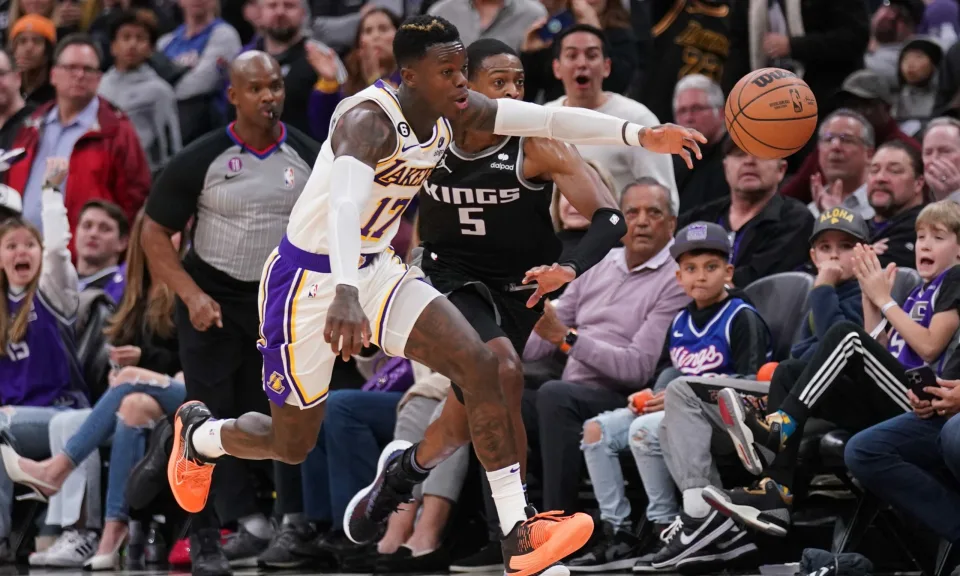 The Lakers will host the Sacramento Kings tonight in the last game of the season series between the two teams, which the Kings currently lead 2-1. Sacramento are entering tonight's game on a four-game wining streak and currently sit one game back of the third seed New Orleans Pelicans. The Lakers are coming off a much needed win against the Houston Rockets, fueled by a Lebron James explosion for 48 points. The Lakers currently sit 13th in the west but are only two games behind of the sixth-place Golden State Warriors.
Injury Report
Lebron James is questionable. Anthony Davis, Austin Reaves, and Lonnie Walker IV remain out. Domantas Sabonis is questionable with illness for Sacramento.
Last Time Out
The Lakers beat the Kings in a thriller in Sacramento when they met last. Dennis Schröder made two crucial free throws which ultimately won a hard-fought game. The Kings will be out for revenge tonight, especially De'Aaron Fox who felt he was fouled on a game winning attempt from three. Thomas Bryant and Schröder were key components to the Lakers winning that game, alongside Lebron James and Russell Westbrook. The Lakers will require similar contributions from their role players tonight.
One to Watch: Keegan Murray
When thinking about the Kings most minds tend to drift towards the dynamic Duo of Domantis Sabonis and De'Aaron Fox, but I want to focus on rookie Keegan Murray, who has been a key component of the Kings' success. Murray is averaging 12 points per game on the season but is shooting 40% from three on six attempts per game as a rookie. LA will need to stay as attached as possible to Murray to make sure he doesn't get hot early.
Patrick Beverley
Patrick Beverley has faced criticism due to his early three-point slump this season, but since December Beverley has vastly improved. In his last 15 games he's making 47% of his threes at 3.5 attempts per game, which has been a welcome help with the Lakers' shooting woes.
Anthony Davis Inching Closer?
Maybe some good news is around the corner of Laker fans! Multiple reports are suggesting Anthony Davis is nearing a return in late January or early February barring any setback, which will be a massive boost for the Lakers amid their playoff push. Davis' absence has raised new questions about the front office's willingness to commit to this team at the upcoming trade deadline on February 9th. If Davis returns to his caliber of play he showed prior to his foot injury, the Lakers become an intriguing team.