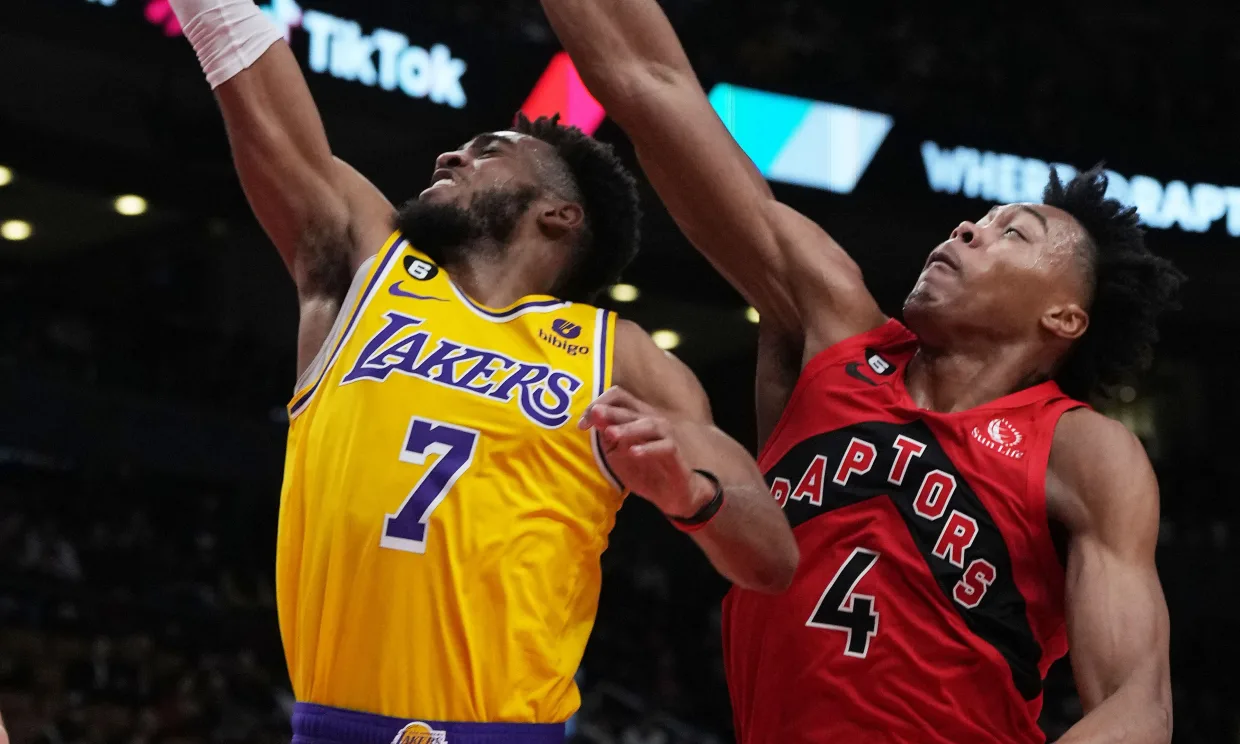 The Lakers will welcome the Toronto Raptors to Los Angeles tonight, in a game which presents them an opportunity to inch closer to their goal of securing a guaranteed playoff spot. After the Lakers, led by Anthony Davis, won a hard fought game against the Memphis Grizzlies they found them selves in the ninth seed in the Western Conference. Heading into tonight the Lakers are 32-34, putting them 1.5 games back of the 6th seeded Golden State Warriors. The Raptors are coming off a tough loss to the Clippers which was overshadowed by referring controversy. Raptors Guard Fred VanVleet picked up a 30k fine for his comments post game.
Injury Report
D'Angelo Russell is set to return for the Lakers after being out for two weeks out with an ankle injury. Anthony Davis is probable, while Mo Bamba and Lebron James are out. For Toronto Will Barton is available to return after missing a game with illness. Otto Potter Jr. is out indefinitely.
Anthony Davis Dominance
Since Lebron James went down with his ankle injury, Anthony Davis has more than stepped up to the challenge of carrying this Lakers team until James returns. Davis has been an absolute monster, averaging 33 points in his last 5 games. He had had 22 rebounds alongside 30 points earlier this week against Memphis. AD, who turns 30 tomorrow, seems to have hit his stride and is truly back to how he was performing before the bone spur that kept him sidelined for a month. His dominance has been recognized within the organization with Darvin Ham referring to Davis as 'Wilt Davis' to the media after Tuesday's win. Health is key for any chance of a postseason push, but if AD can stay healthy and continue these outstanding performances the Los Angeles Lakers have a really good chance to make some noise in the post season.
D'Angelo Return
D'Angelo Russell will return tonight after a two week absence with a sprained ankle suffered in the first game out of the All-Star break. His return is a huge boost. He obviously adds floor spacing but the quality the Lakers have missed the most is his ability to playmake. One person who will be set to especially benefit from Russell returning is sharpshooter Malik Beasley. Since Russell has gone down Beasley has been in a mini shooting slump, so the addition of a true point guard and playmaker in Russell will surely help him get easier looks and enable him to get back on track.
In LeBron's absence it will be interesting to watch how the Lakers use a potential pick and roll of Russell and Davis. Russell's crafty shot creation ability and reliable playmaking alongside Davis' rolling or popping ability makes the pick and roll a big threat at the Lakers' disposal in the half court offense.
Center Reinforcements?
Due to Mo Bamba's ankle injury, which will more than likely see him miss the rest of the regular season the Lakers will probably turn to the buyout market for big man reinforcements. Options could include Demarcus Cousins, Hassan Whiteside, potentially another Lakers reunion with Dwight Howard. It'll be interesting how Rob Pelinka and the front office approach this issue and whether they may use their 10 day contact on a big man, or instead give Wenyen Gabriel Bamba's minutes.