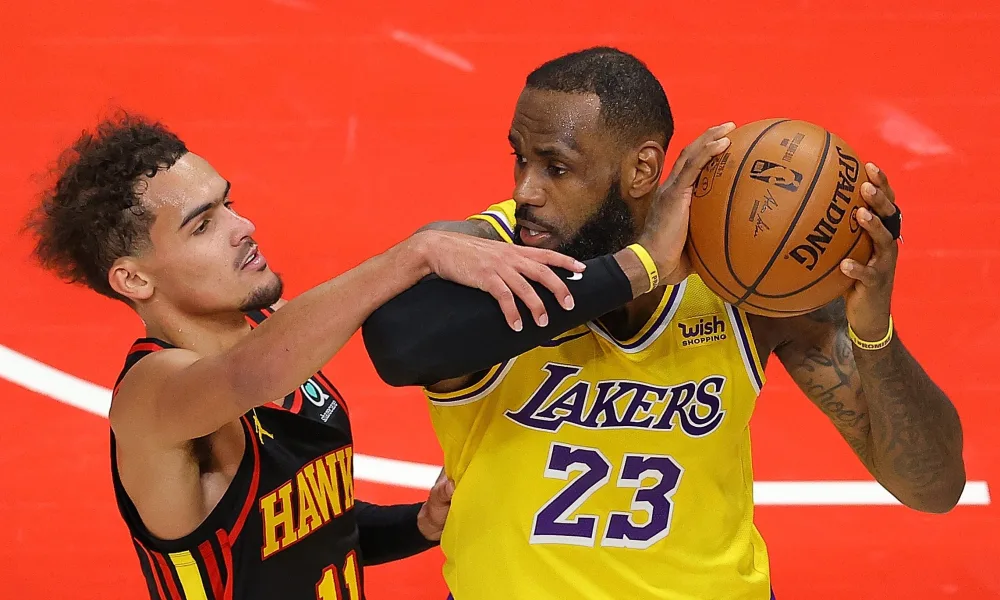 The Lakers take on the Hawks tonight in Atlanta for game three of their five-game road trip. The Lakers are coming off a loss to the Miami heat on the second night of a back-to-back, which saw them fall to 14-21 on the season, 3.5 games back from a play-in spot. After the game, LeBron James again seemed to vent his frustration with the roster and the Lakers' lack of competitiveness as a team, this late in his career.
He said "I think about how much longer I'm going to play the game. I think about that I don't want to finish my career playing at this level from a team aspect. I'll still be able to compete for championships because I know what I can still bring to any ball club with the right pieces".
It's not the first time LeBron has seemed to take aim at the front office this season in regards to roster construction and with Dan Woike of the LA times reporting that the Lakers' front office has seriously considered not making a major move this season, James' frustration may not subside anytime soon.
Injury Report
Lebron James (ankle) has been upgraded to available for tonight's game. Lonnie Walker IV has been downgraded to questionable with a tailbone contusion. Austin Reaves (ankle soreness) and Dennis Schröder (foot soreness) are both probable, while Anthony Davis remains out. Max Christie has been assigned to the South Bay Lakers. For Atlanta, Trae Young is probable, while Deandre Hunter is questionable with an ankle sprain and Clint Capela is out with a calf strain.
Take Care of the Ball
Against the Heat, the Lakers were -19 in the turnover battle, which is a recipe for disaster against a team like Miami which is extremely well-coached. The Lakers will want to try and clean that up tonight. They'll be up against Trae Young , a point guard who is quite turnover-prone, so if they can cause problems early they will be in a better position to win the battle for extra possessions.
Rotation Decisions
Darvin Ham has done many good things this season, but some of his rotational choices have just been bad. The leash that he grants to certain lineups and players definitely indicates that he values experience over anything else. I think most Laker fans agree the Dennis Schröder and Pat Beverley backourt has long run its course and an extra wing such as Troy Brown, Jr. would help provide much-needed defense and shooting. The backourt just gets exploited too much against modern NBA bigs, which has left the Lakers in an early hole to climb out of more often than not. Surely at some point Ham will go with a more lengthy lineup to try and build some stability and help gather wins.