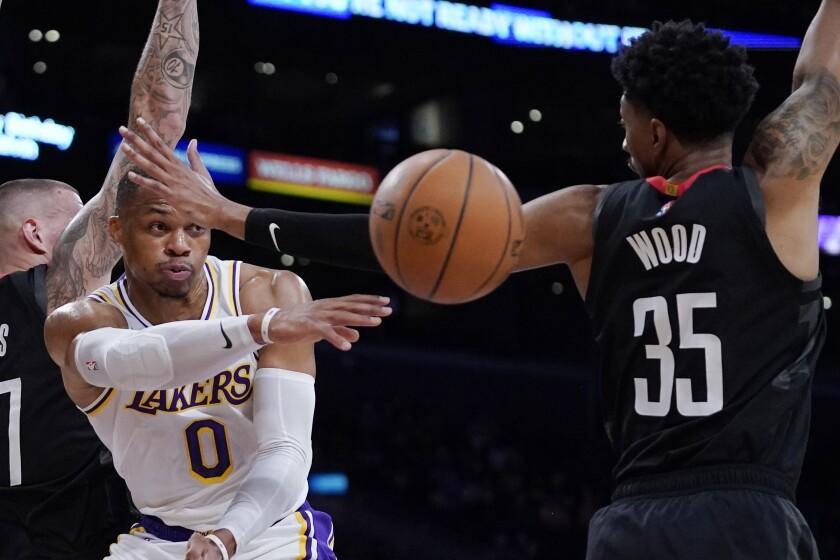 Much has been made this season about the age of the Lakers roster. They are the oldest team in the NBA, and the addition of aged stars like Carmelo Anthony and Dwight Howard encouraged rampant memeing across sports media. With the aging of their roster, the Lakers have moved away from their damn-the-torpedoes approach to attacking the paint. They still want to be aggressive around the basket, particularly with Anthony Davis and LeBron James, but there has been a shift in emphasis from finishing around the basket and playing the offensive boards to taking more frequent advantage of open jump shots.

The change in approach suits older legs. It also requires a more potent combination of shooting threats than the team has fielded in either of the last two seasons. The addition of Russell Westbrook compounds that necessity, because while he brings a number of useful skills to the table, shooting is not among them.

The Lakers cannot play Russell Westbrook long minutes in important situations if there is another player on the floor who cannot draw attention to the three point line. DeAndre Jordan and Kent Bazemore have both seen their minutes sacrificed to that imperative in recent games, even while the team has been fighting injuries to key rotation players. It is not an exaggeration to say that the Lakers' ability to get the best out of Westbrook – and with it their season – depends on the role players making three point shots at a sufficient volume.

Some of the roster additions made this offseason were designed to provide that kind of shooting, but injuries and roles in flux have prevented them from gaining confidence together. It was hoped that Bazemore would provide enough spacing to justify keeping him on the floor for defensive purposes, but he has disappointed on both ends so far this year and does not seem to have the trust of Frank Vogel. Malik Monk started the season slowly, with mediocre shooting numbers in limited minutes. Kendrick Nunn has yet to play a regular season minute in a Laker uniform due to injury.

Yet, the time is speedily approaching when we will begin to get some real data about what this roster is capable of achieving as a group. Stepping into a larger role because of a plague of injuries, Monk has begun to find a shooting rhythm. In his last 5 games, he has shot 41.4% from three on just under six attempts per game. Beyond his raw production, Monk's willingness and ability to fire from well beyond the arc magnify the amount of space he can create. These numbers are in line with his production last season in Charlotte, which suggests that they are sustainable. Wayne Ellington has returned for his second stint with the Lakers, and remains a lethal threat as a shooter running off of screens. Carmelo Anthony has turned Staples Center into his own personal shooting gallery.

Additionally, fan-favorite and wunderkind Talen Horton-Tucker made his return from injury on Sunday against San Antonio. He was electric at times, making big plays on both ends of the floor and displaying an increased awareness of how to use his exceptional length to disrupt opposing offenses. His precise role, and longevity in the starting lineup, will be determined by his shooting. It was much publicized that Horton-Tucker was working on his jumpshot after two inconsistent seasons from deep. His 1-5 mark from three was the lone blemish on his performance against the Spurs. The Lakers and their fans will be watching his percentages closely in the coming weeks.

It is Nunn's impending return, however, that has the potential to make the biggest impact and be a genuine ceiling-raiser for this Laker squad. His ability to shoot at a high percentage from three and defend the perimeter capably makes him an ideal partner for Westbrook in the backcourt. The Lakers have several players who can do one of those things well, but unless Horton-Tucker quickly develops consistency with the deep ball there is no one else on the team who does both of them as well as Nunn.

It will not be until both Nunn and Austin Reaves return that the rotations and roles will start to truly solidify. Fans who have followed the Lakers closely during Frank Vogel's tenure as head coach will be prepared for at least one questionable lineup per game, because Vogel has a commitment to data-gathering that is both scientifically admirable and deeply frustrating. But the ingredients are there for an extremely potent offensive attack, if the shooters can maintain their consistency on the open looks that the combination of LeBron James, Anthony Davis, and Russell Westbrook regularly create. The fate of the oldest team in the NBA will be decided by their ability to utilize the game's newest weapon.